If you've been thinking about starting a business and you're trying to broaden your reach through YouTube or podcast.
Which one should I go? Which one should I do?
There's a lot of different answers that you'll probably find online.
I'll give you my personal take as far as working through the system or working through which medium you should go with.
In short, you should be able to do both.
Now, a lot of people argue about starting a podcast.
There's a lot more podcast listeners. There's a lot more people that are listening to podcasts as they drive to work and although that is in theory.
It makes is it more available because when you look at video content, video content is much more rich.
Be more focused. Be more engaged.
Think about the difference right there.
If you have an audience that's more focused, more engaged, you might have a better captured audience. Whereas if people are driving to work, they might be listening somewhat attentively but not as full focused.
That's one big difference.
When you look at starting a podcast, a podcast is a lot easier. There's a lot less equipment, you're not on camera, there's a lot less editing, startup costs are a lot lower because of the bandwidth There's not as much hosting requirements for a podcast as there might be for video production or editing or setting things up.
so that's one thing that's already kind of out there.
You should be pushing for both. Why?
That is because when you create one single piece of content, let's say you're working on this blog or video piece of content. All you need to do now is distribute it
The issue that I found over the years is when people say they will going to have a podcast and that's going to have its own episodes and they're going to have a YouTube channel and going to have a whole different batch of episodes.
That just becomes a little more difficult to manage. Then you have a blog and then that might have even different types of content instead
What you want to focus on is distribution.
The way the best way to do that is through video content. Here's kind of the thing when you look at a content hierarchy pyramid.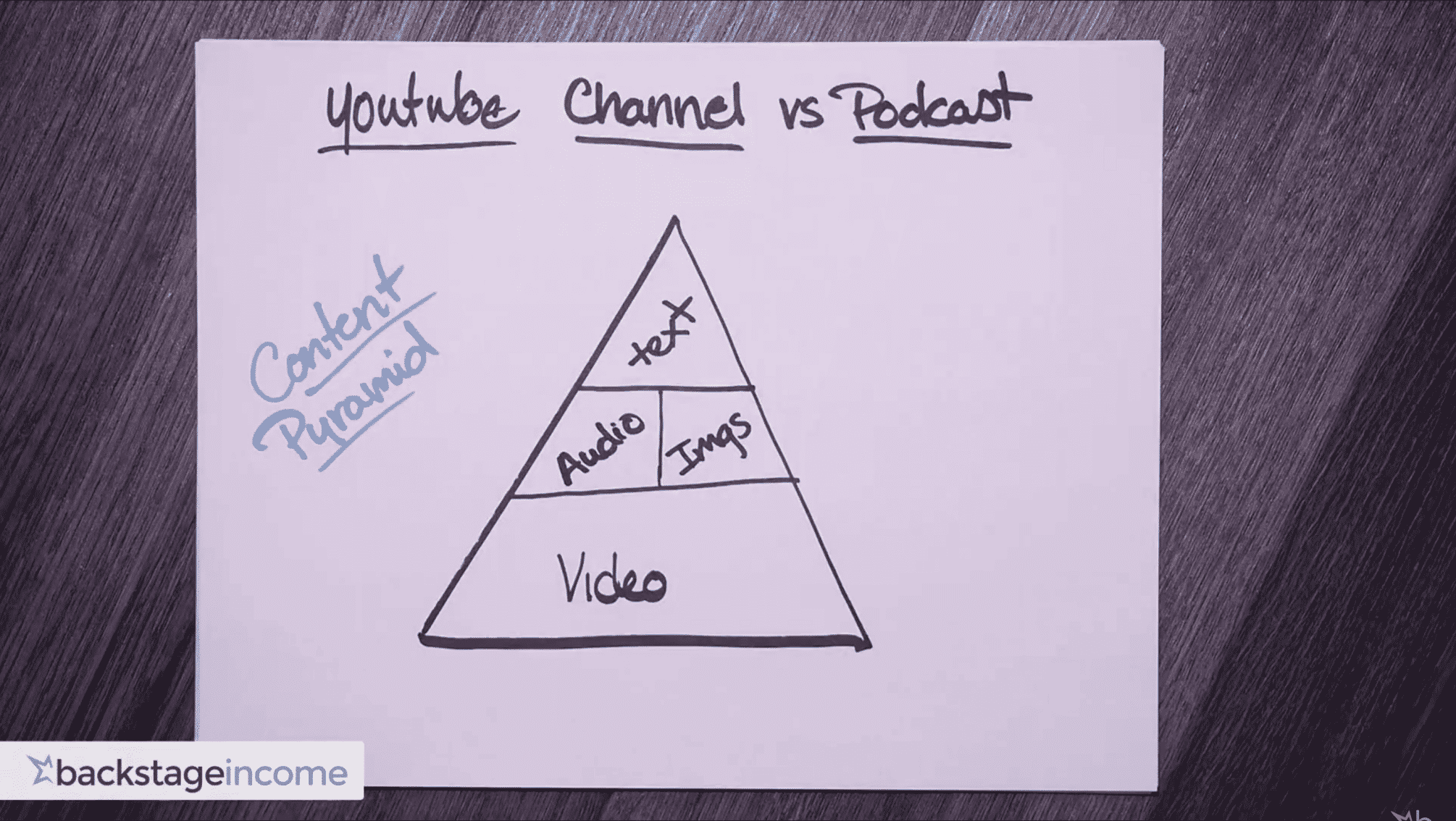 The most rich content is the video. It is kind of the golden content.
From video, what you can do is you can extract audio and convert that into a podcast.
It's not all perfect because because of the visuals that I might be presenting in video. Simply it's just more rich.
I even had people that start out listening to my podcast on my investment channel, on the Tradersfly channel and podcast. What they do is they listen to that but then I'm referencing visuals and they don't see it and then they look me back up on the video.
But it works out as a win-win situation.
What's going to happen is people know that he's got something on video. So if they want to watch the video, they can go get more details. If they just want to listen to the podcast as they're driving to work, they could do that as well.
So also with video, you can extract images.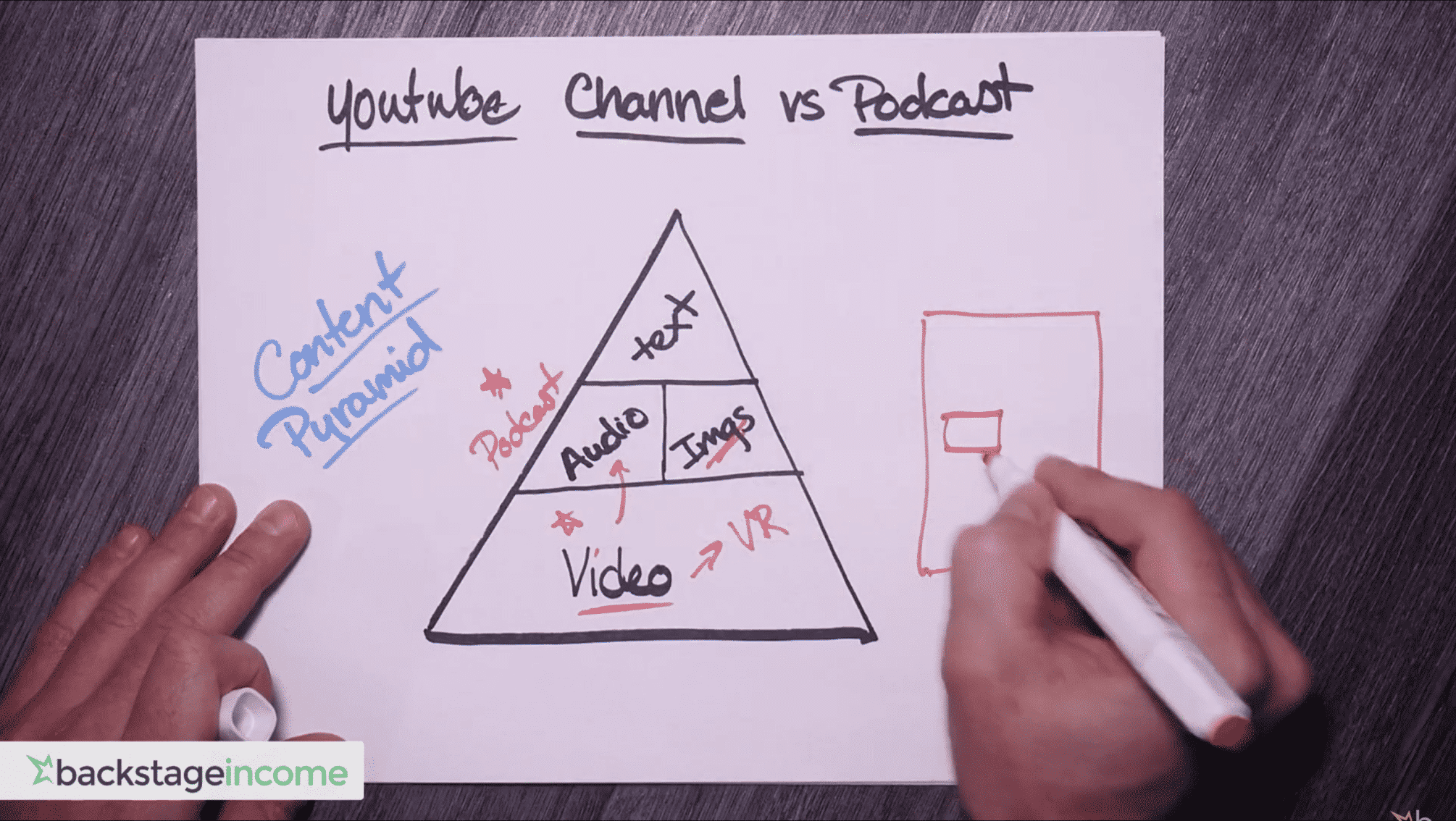 So if you're going to write a huge blog post, what you could do is also extract pictures and images. From the audio or from the video, you'll also be able to extract the text. So now as you've got your text and your blog, you've got images. You could also put the video and audio.
Now, you've got your whole blog post kind of done.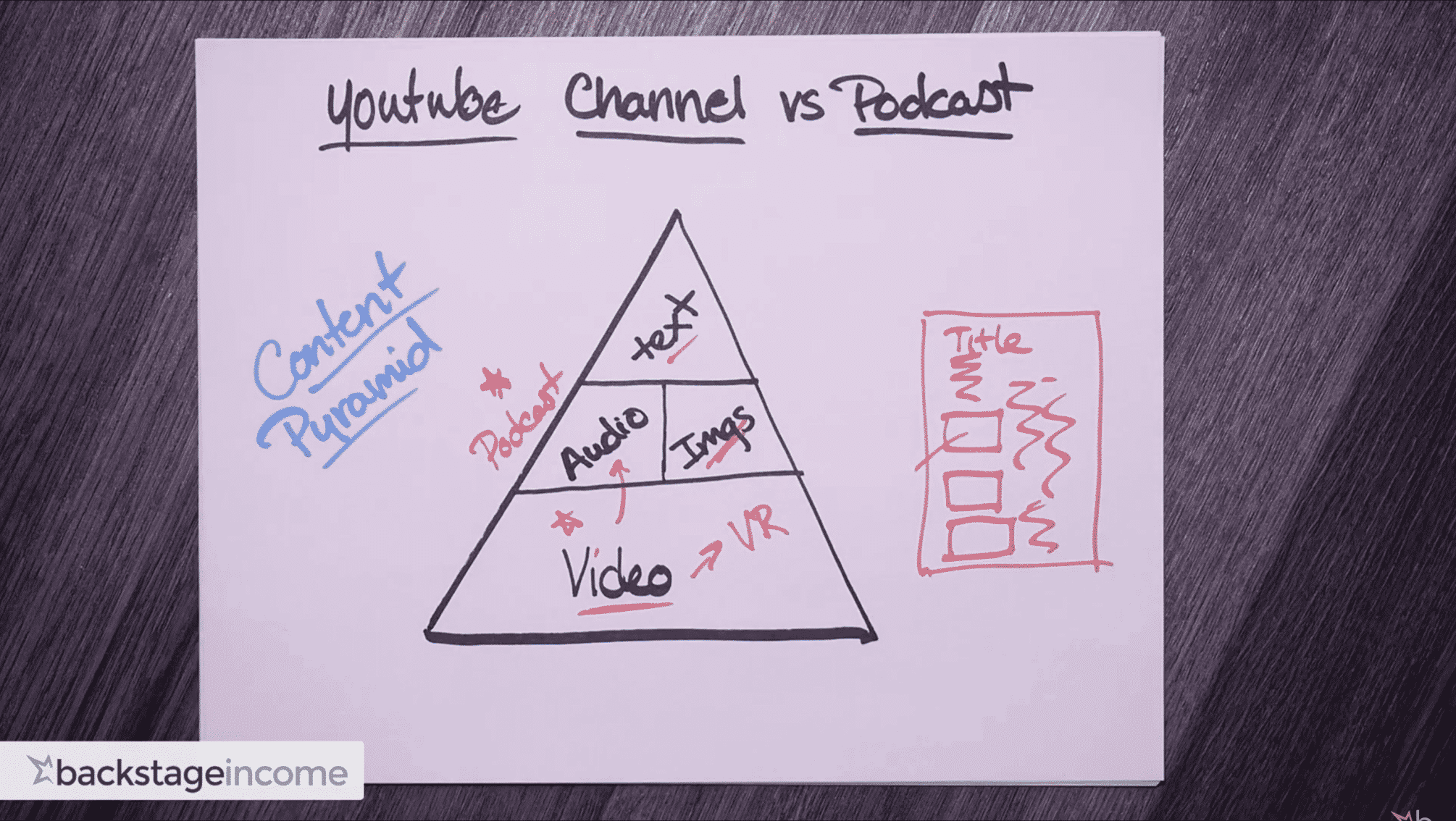 The point that I'm trying to make here is, if you start with a video you're able to extract:
Now you can distribute your content into the podcast networks, into the YouTube channel networks, even into the image searches.
There's a lot of great benefits. So what you want to do is it's really more about content distribution.
If you start with one piece, how can you distribute this content because you only have to do production once.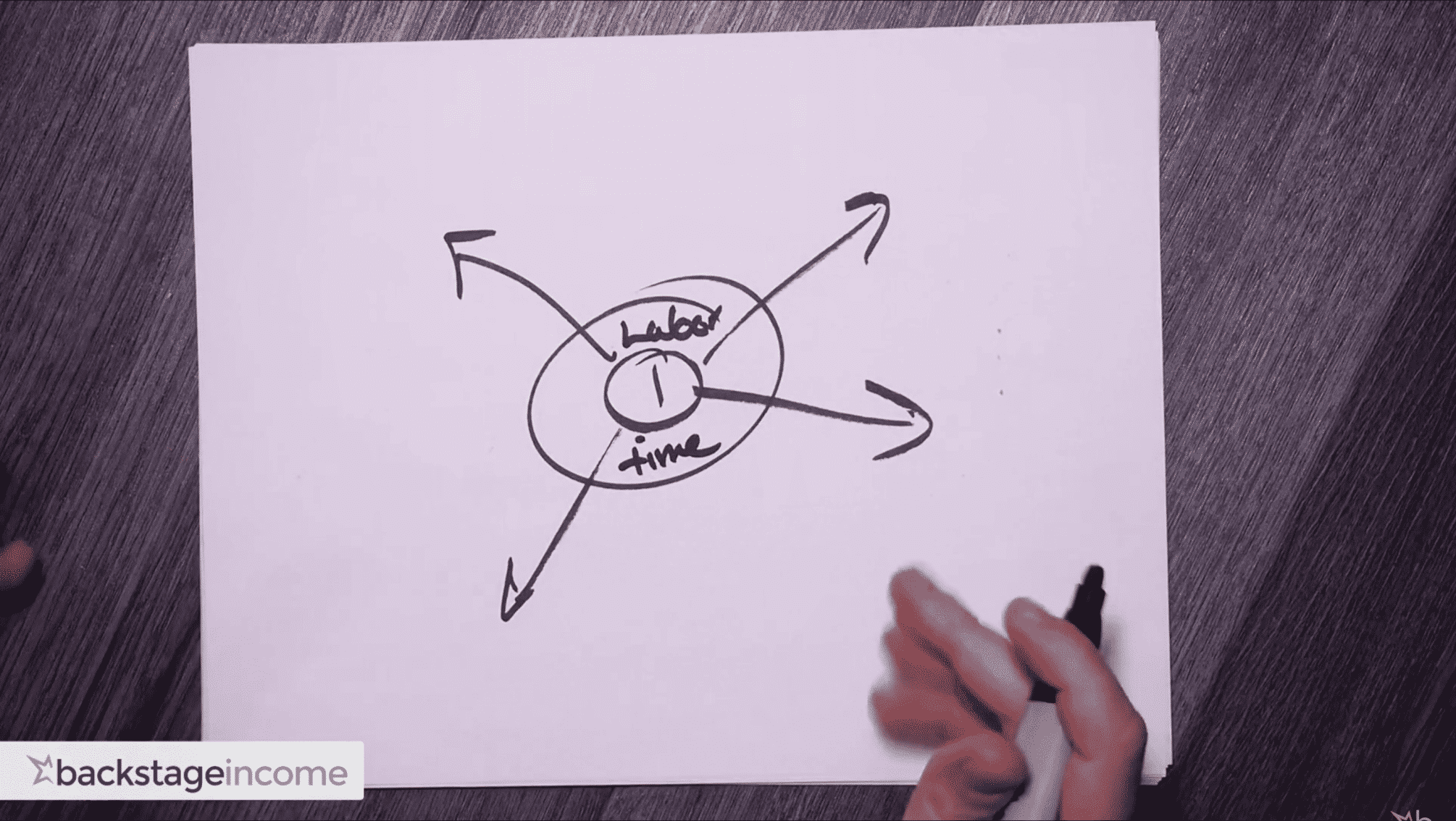 Remember, labor and time is kind of important and it's a limited resource that you have.
So if you're able to put in one amount of labor or do one blog post or video in a way then you can distribute it to your podcast and then to your blog.
Now you can create that and to an image search.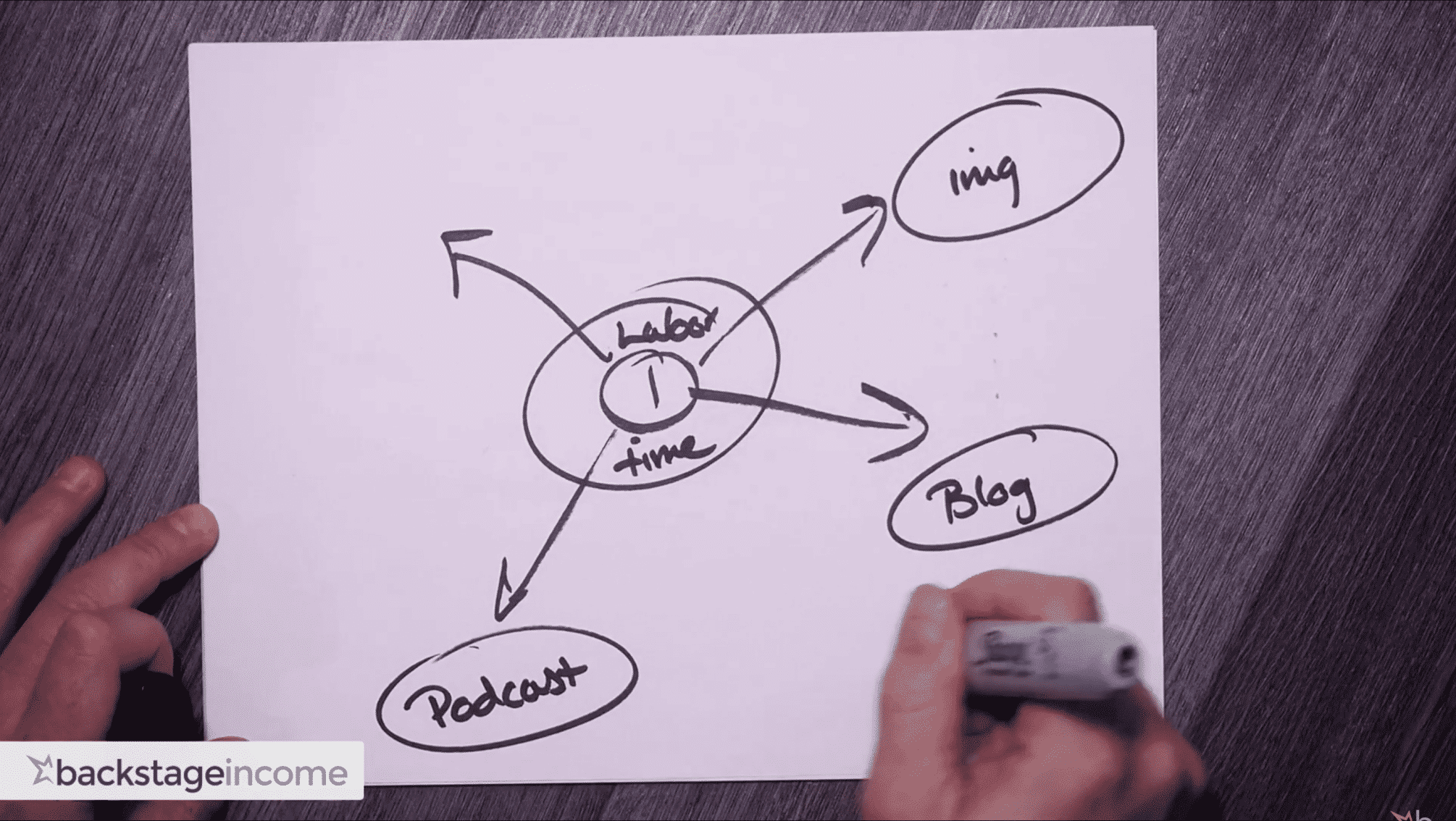 You've got all sorts of rich multimedia networks
However, if you start with a podcast, remember with a podcast you can only extract the text and audio.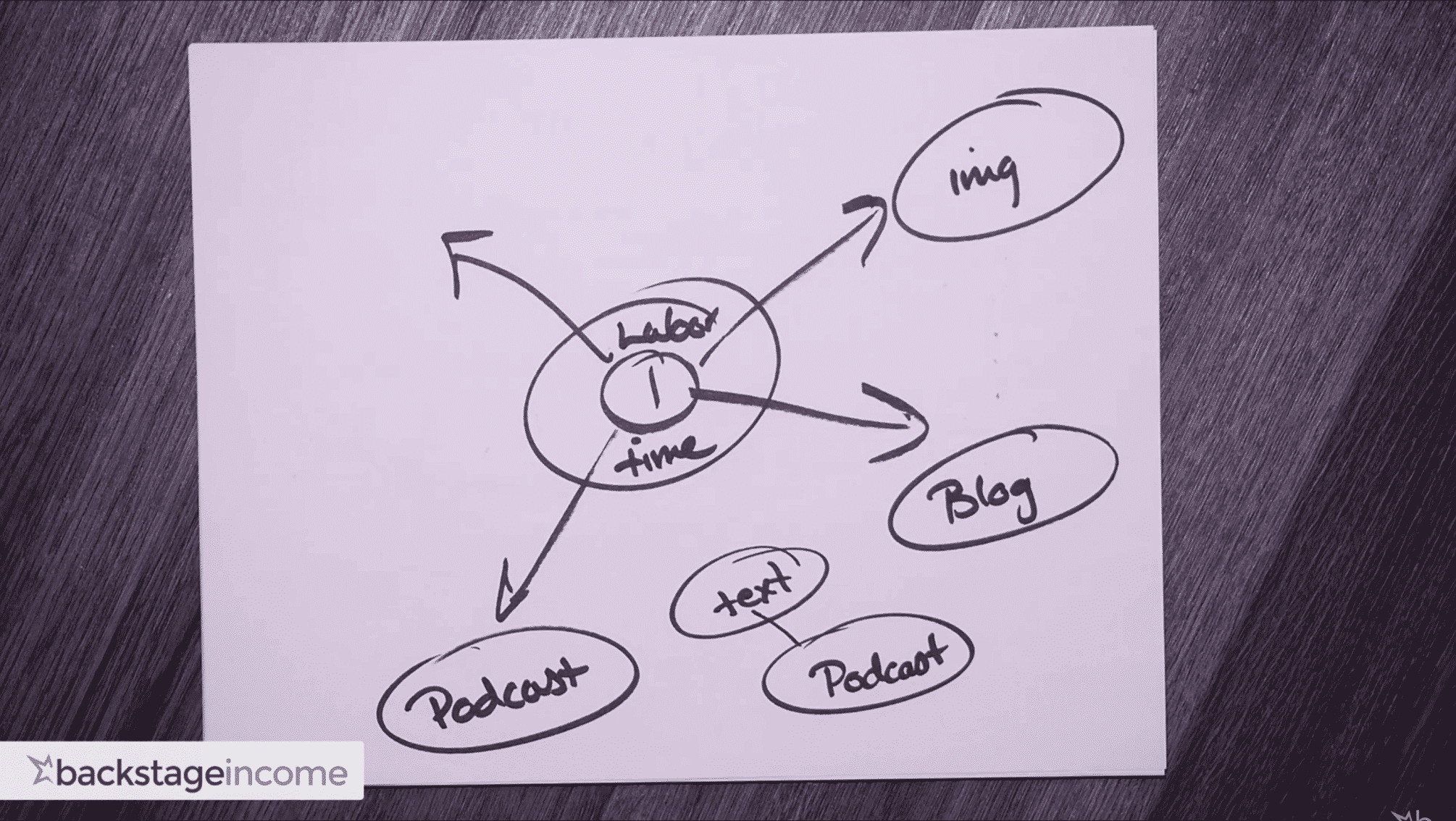 You might be able to do a few things by adding in some sample images that are maybe stock images. But now, you're pooling in other resources to generate that blog.
Whereas from video, I can actually extract the screenshots and it's directly from the source. So it just shows you that there is just much more of a rich content medium and platform.
Now yes, I will agree that when you're looking at something like a podcast, it's just easier to start.
You need less equipment, you don't need to be on video, you can get started a lot faster, the growth and reach is probably a little bit bigger because the audience is discovering you through different mediums like that.
It's just wider range.
For example, third world countries are a little bit more easy to go in and listen to podcasts rather than watching a video just because the bandwidth there and the infrastructure is not as easily available.
They might be preferring more audio. Not to mention all the people driving to work, at least before all the coronavirus things going on.
Podcast is just an easier form of content to digest. Whereas with a video, it's more difficult like watching a movie. It's more difficult to digest that content piece.
However with a video, people are more focused in on your content. So your message might be more heartfelt and you become more connected.
There are trade-offs to both.
But I will say, if you can start with a video, do so. Now you can distribute it and I'm thinking about distribution.
If you start with a podcast, it's fine. But now you're missing the video distribution networks. You can't really go back and re-film.
If you do now, you've got twice the work. You've got to do the podcast and you got to do the video and that just takes an enormous amount of time.