If you're trying to launch a video course, a product, or a service — what's important is that you position yourself properly.
Because if you don't position yourself properly, you'll be saturated with the rest of the marketplace.
Basically, your course will be just in the whirlpool of everything else.
That can be a little bit of an issue because customers won't know how to distinguish you or your product or your service from the competition.
If you niche down or drill down — that usually is a better approach.
I like to take a look at things more like a quadrant approach.
Look at stock trading positioning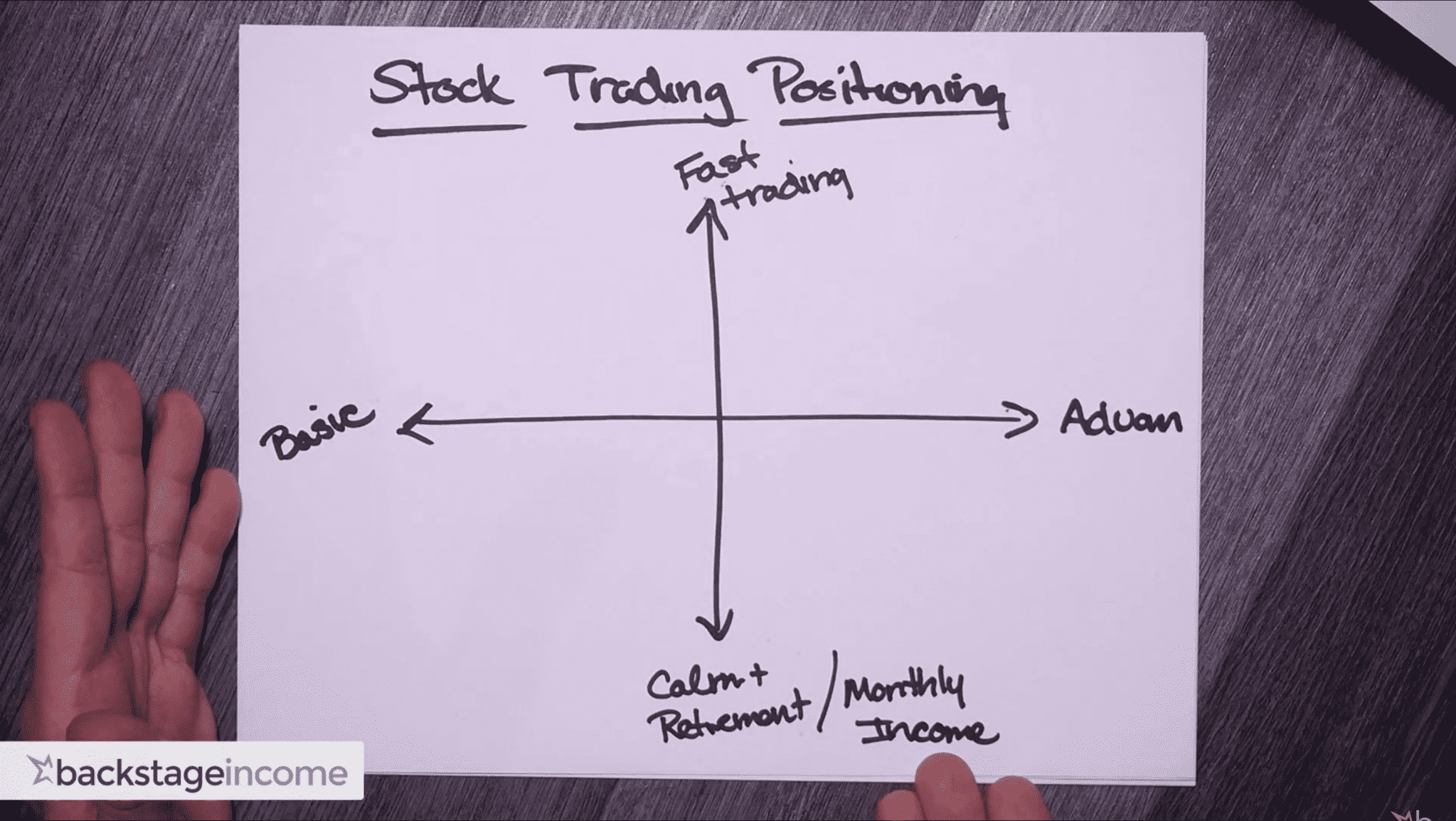 By the way, this is what I did with my tradersfly website. We focus a lot on Option Trading.
To those of you that don't know what option trading is, it's using a little bit more of time decay, margin, and leverage to be able to create consistent income.
Does that mean I don't have other types of courses and material for trading?
No. That's not the case. But the majority of things that I have focuses on the Option Trading.
When I look into something like this, you can break it apart into a quadrant.
Do I have basic versus advanced people?
Am I looking for fast and quick trading or am I looking for like calm-type of trading retirement or monthly income?
In my case, I focused on was a little bit more on something basic like Day Trading.
Where would Day Trading fall in? It's probably fast trading and it's pretty good for the basics because people just buy a stock, sell a stock.
You could also look at things more like let's say Long-Term Investing.
Again, basic maybe calm over here but it's not too advanced but it's very calming.
The point is — is if you mark out your competition or area like what quadrants are being hit, if you have a lot of quadrants at a certain spot, what you don't want to do is just be in that certain zone.
Let's say you had a ton of things over here like you know maybe penny stocks, it's all fast trading for beginners. That's all great because there's a lot of people.
But if you're trying to position yourself here and there's just a lot of offerings in this area, it's going to be difficult to break through.
If you're positioning your course somewhere where there's an empty space, it's a lot easier to break through that industry.
Online Course Positioning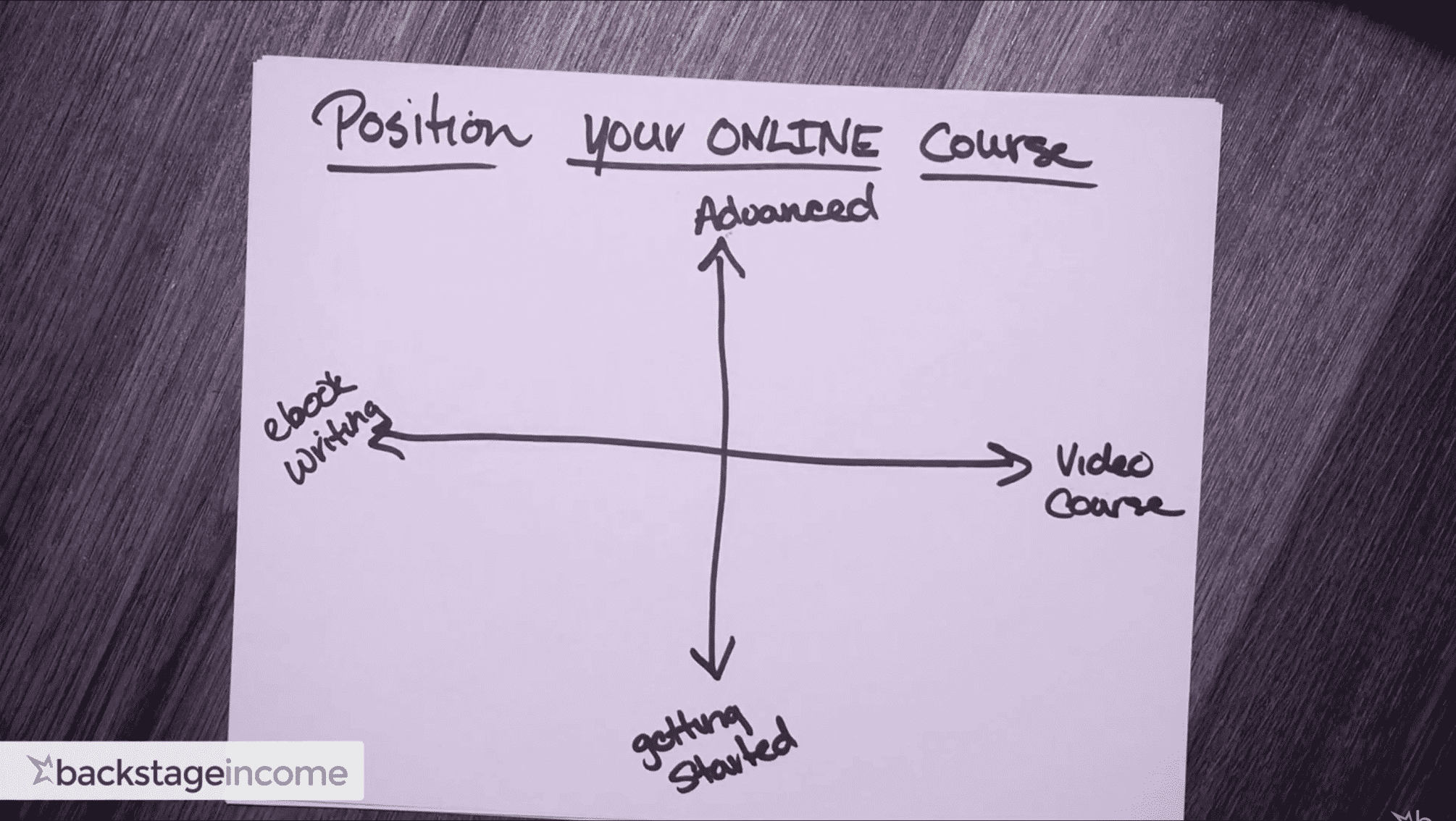 Comparing two different things, maybe ebook writing versus a video course.
If you want to discuss how to make money with ebook writing or how to make money with a video course where are people leaning to, are they more writers or are they more video course creators?
If I'm looking to do something that people are just getting started, they're trying to make their first buck online, I'd be more in this zone.
Where people are more tech savvy and they're more advanced, I'd be more over here.
This could be like marketing your video course or strategies — this course would be positioned there.
You could see how you could break these apart. Of course, you can change these up instead of getting started or advanced. You could do low price, high price.
Instead of ebook writing, you could do ebook writing and ebook marketing.
Right now I'm looking at things a little bit wider but what you could do is zoom in into something and then zoom in even further and zoom in even further. Now, you're focused and concentrating in a certain specific quadrant or area.
You can usually niche down uh will be just a lot better for you in a specific area because now you're getting really targeted.
Let's look at ebook writing
We're digging deeper. We're focused not ebook writing versus video course. I'm looking at ebook writing. Do I have a full service versus DIY?
DIY-ers, how do they write their book might be different but again they write a mix. They could be like over here. Are they full DIY-ers and do they design? Let's say they design their own covers or are they maybe like half DIY-ers where they don't. They do the writing and they don't do the editing. They don't do the cover, so they're more on this end.
You basically can figure out where people fit and what type of course you want to make depending on that quadrant.
By having this empty space in your area, it allows you to just drill down deeper into a certain niche — that's what drives your avatar and now you're getting a specific course or service for that individual.
If that's what you're targeting, it allows you to really just dominate that area.
Because now, if you structure a product suite around it, let's say you have three courses in that area focusing around that quadrant, focusing around that zone, you can really dominate that space.
That's what I want to share with you right now. You could just build things out there and that's really what I did with again my investing and option trading areas.
We've got the basics of options. It's not like long-term investment. It's not like dividend investing.
Do I have some things on the dividend investing? yeah I do. I have one course on dividend or passive investing but it's not my bread and butter.
My bread and butter from these courses is the option series.
I have some penny stock ones but again it's not the core of the business — the focus the target market is this and that's the area or industry that I'm looking to penetrate.
As you look to expand and evolve a certain marketplace, target a specific area and a specific area that's a little more empty
Because if you see a lot of competition in certain area, then that could be a little bit of an issue or problem.