Listen to the Podcast
Blog posts sound and seem generic.
If you've seen a lot of blogs out there that is very similar to the other stuff that many people are talking about. This list sounds very similar to the other list. Sometimes, that's fine because the content is very simple. It's generic and it's just there to get some views. You may want some of that type of content in your blog post.
But if you're trying to be more original, more creative in your blog, maybe use unique concepts.
How do you be more creative?
Where does creativity come from? When you're doing the writing, video creation — what makes it unique?
How do you get that? As far as creativity and what that really means, how to gain a little more creativity?
All creativity is about is when you can tie two possibly unrelated objects or things together.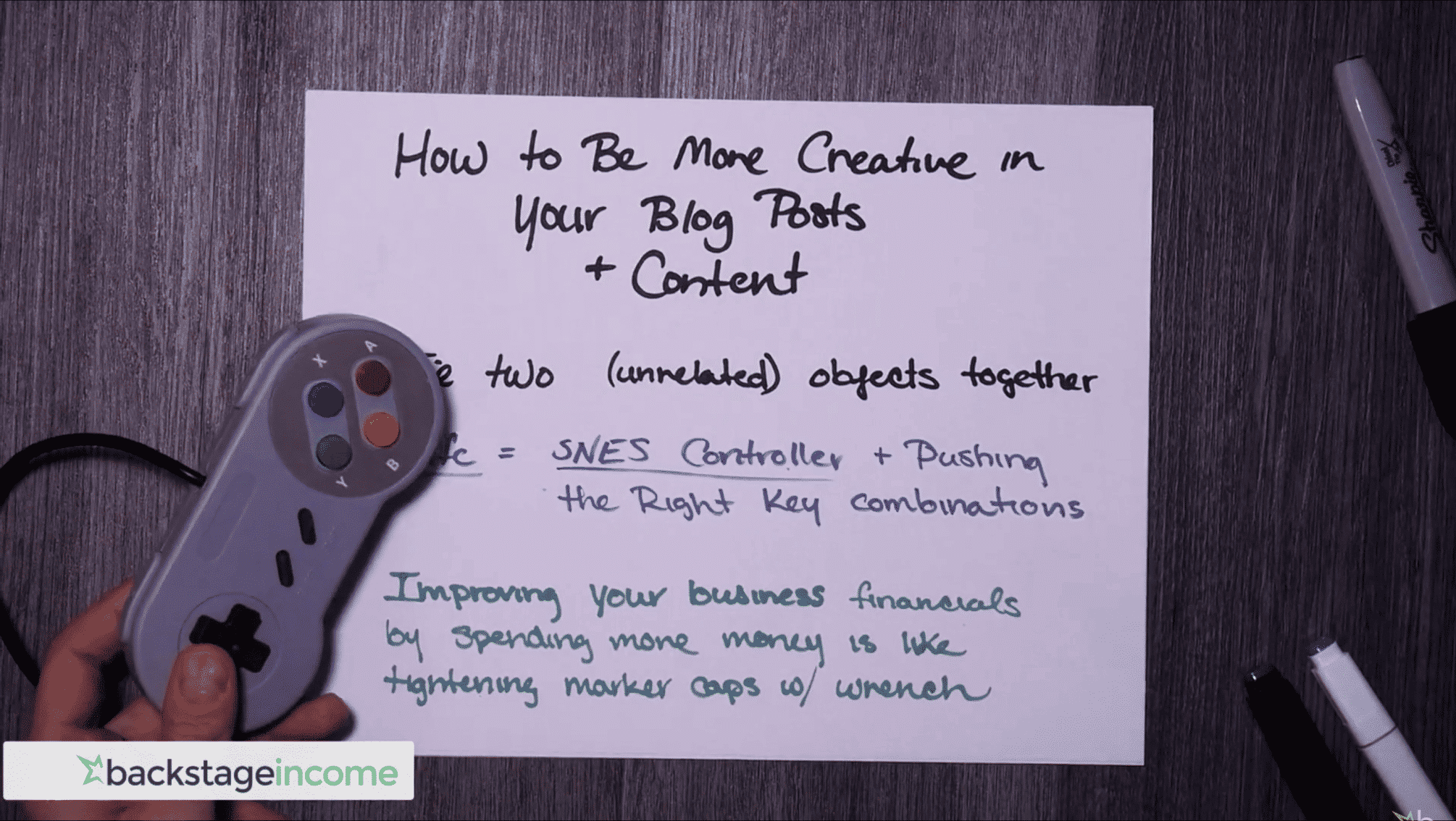 For example, if you've ever played nintendo or any kind of game, and if you just kind of press this same exact button over and over and over again, it's not going to really work. You're not going to win the game. You're just going to push the same button over and over and over again.
But as far as life goes, if you are pushing the right key combinations — like let's say you're maybe running and you're holding one button down and then you're pushing the other button and then you do spin or fireball or whatever as you're playing Mario, it takes a lot of combinations to win a certain game or win Mario along with going to the right, going down, jumping and so on.
So combining those key combinations will let you win the game of life.
If you could use some example, like a game of Mario, you're now much more creative.
Two things that are unrelated gives you that creativity pretty simple.
Simple concept. Two objects.
Just take two objects and see how you could tie it together.
Let's take a look at another one.
How about maybe a different topic where it's a little bit longer.
Here we're looking at improving your business financials by spending more money is like tightening marker caps with a wrench.
So, let's pretend you have a financial blog and you're telling people that they're trying to take marker caps and they're tightening the marker caps with a wrench and it just doesn't really work out very well.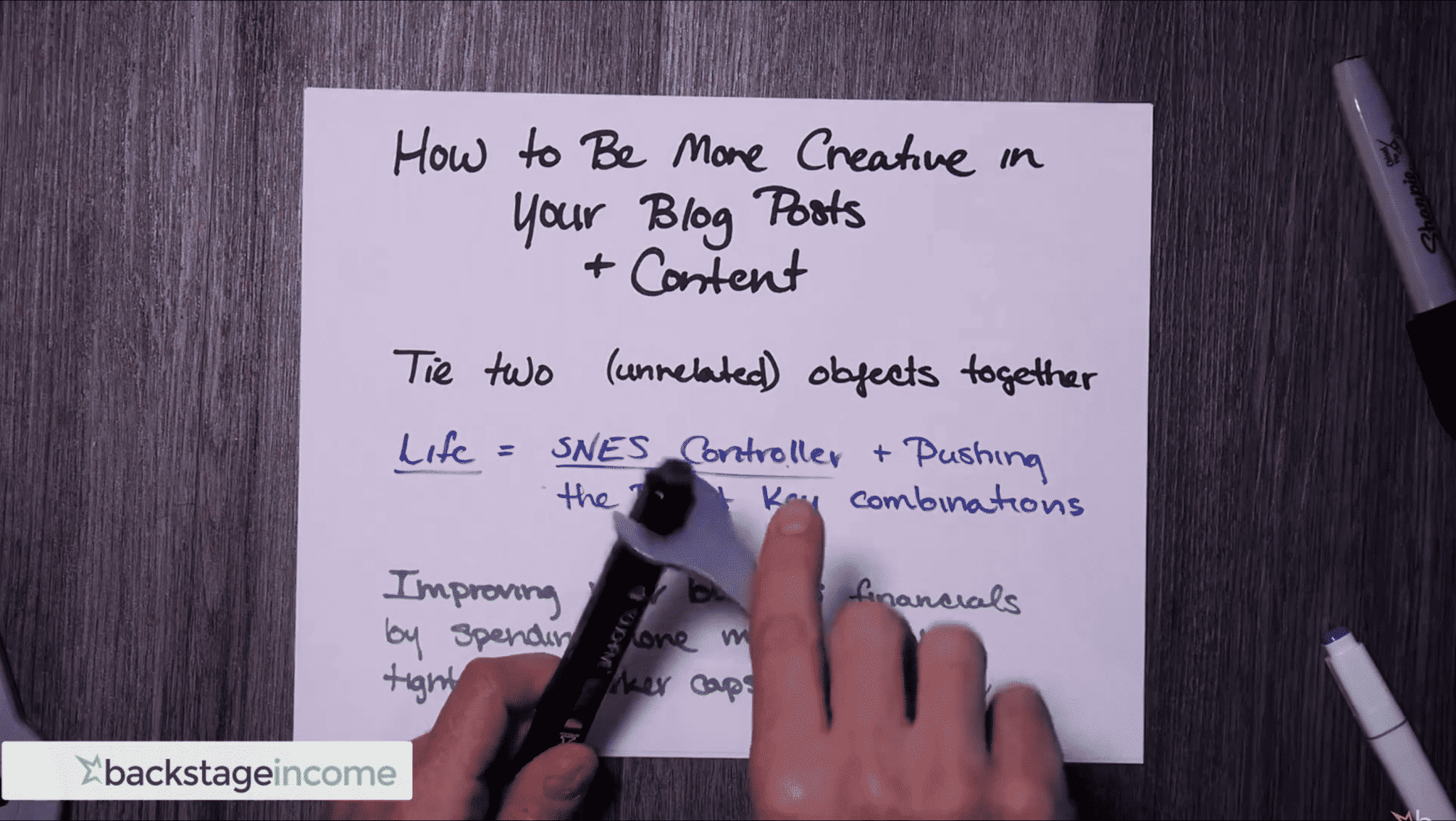 It doesn't make sense. Why would you tighten a marker cap with a wrench or a tool? Maybe in some cases, if it's stuck, but in general it's not going to happen. So by using this example it's like — why would a business spend more money to try and tighten up the budget and make better financial choices and improve the finances by doing something like this?
It doesn't make sense. So you could see how using two unrelated objects, I could again tie another idea example to specifically illustrate what i'm trying to get across.
That's really what creativity is all about — in the simplistic form.
If you're trying to come up with ideas and concepts, you might have already heard of these ideas and concepts before. Maybe surfing the web with topics you want to cover.
But how do you be a little different? The way to be different is tying unrelated objects — your objects, your experience, your thoughts — into that content medium or into that idea into that example.
And now, you'll have a totally unique and a very creative blog post. If you're doing an individual content and do that many times, you're going to have a creative or creativity within your blog.
As you're posting hundreds of content pieces, you're going to have a very creative, very unique blog.
Start doing that. That's the basic level and you can kind of ramp this up much more and tie it into whatever it is you're doing within the niche that you're working on.