So let's kick things off. I plan these things out in notion and it looks like this.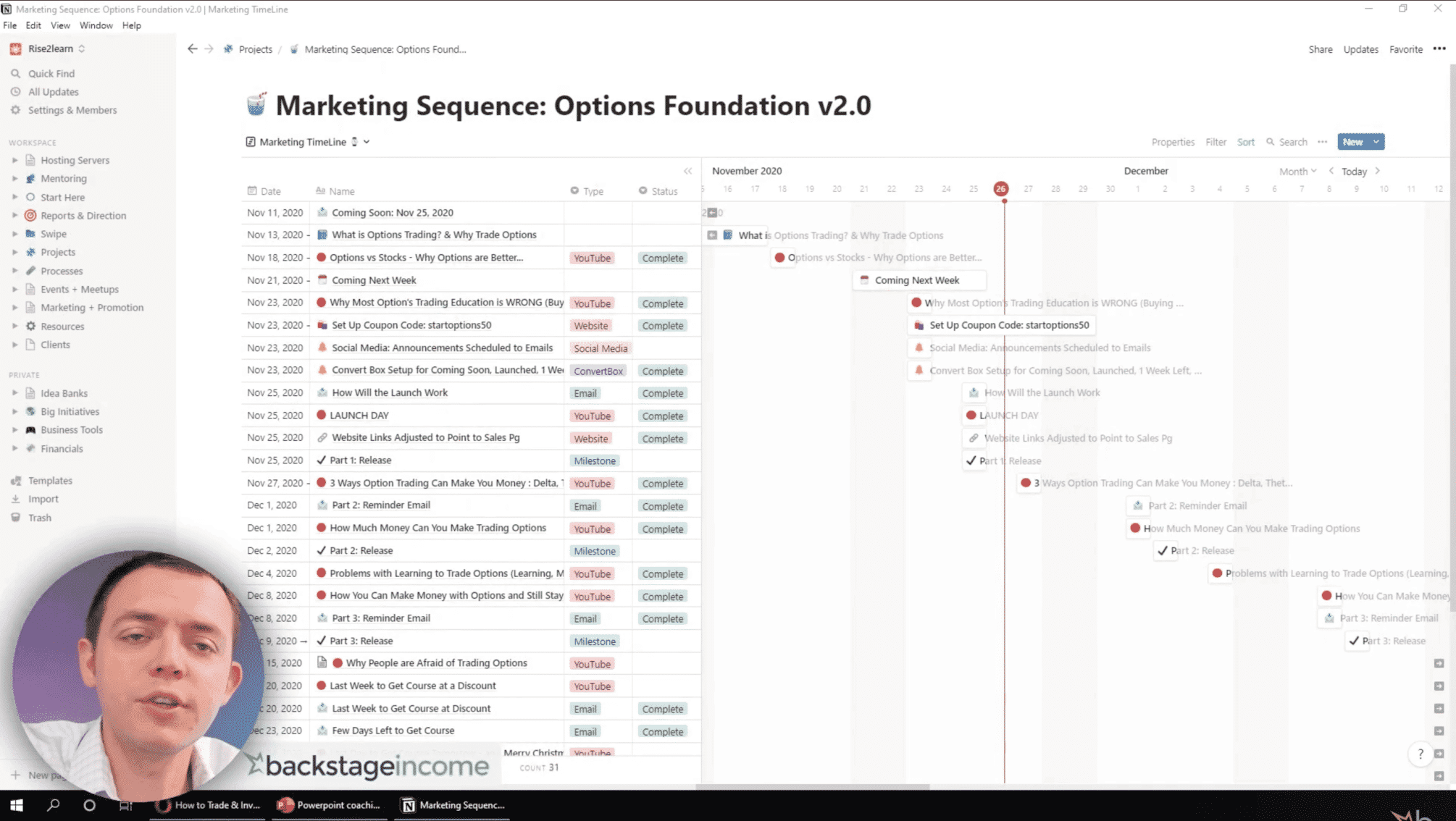 Now if you use some other software like AirTable, Excel, sticky notes — that's perfectly fine. But the point is, the tool is not as important. I'll show you Notion and how I go about it.
This is basically our notion project. You could have dark mode if you want.
You could just switch the lights — if you like it dark, if you like it light. I'm going to leave it light for the time being.
I have this marketing sequence that's basically set out. It's within their new timeline view, which I really like for launch sequences. Now, I don't usually do a lot longer durations when I'm doing launches. It's really just for that day — that's what I kind of need to schedule.
How I create things
I know that all these red dots, everything has its own thing going on. So the bells are basically, 'hey I need to send some alert'. The reds are, 'hey I need to record something, like a video'.
The links are maybe adjusting a website. The check marks are kind like, 'hey here's the section, maybe we're launching and I need to open up another section'.
Then here I've got emails. So the email part is really just more about, 'hey I need to go ahead and send out an email at that point'.
When I look at these things, you could just drag things out as needed.
First, I write out all the emails that I need. So if I need to launch all the videos, I want to record all the types of emails and then just start moving them around.
So if I need to move one a little, let's say forward or back, I just take this and I'll drag it over here or over there.
Now I'm not going to move it around because it's an actual launch that's going on right now.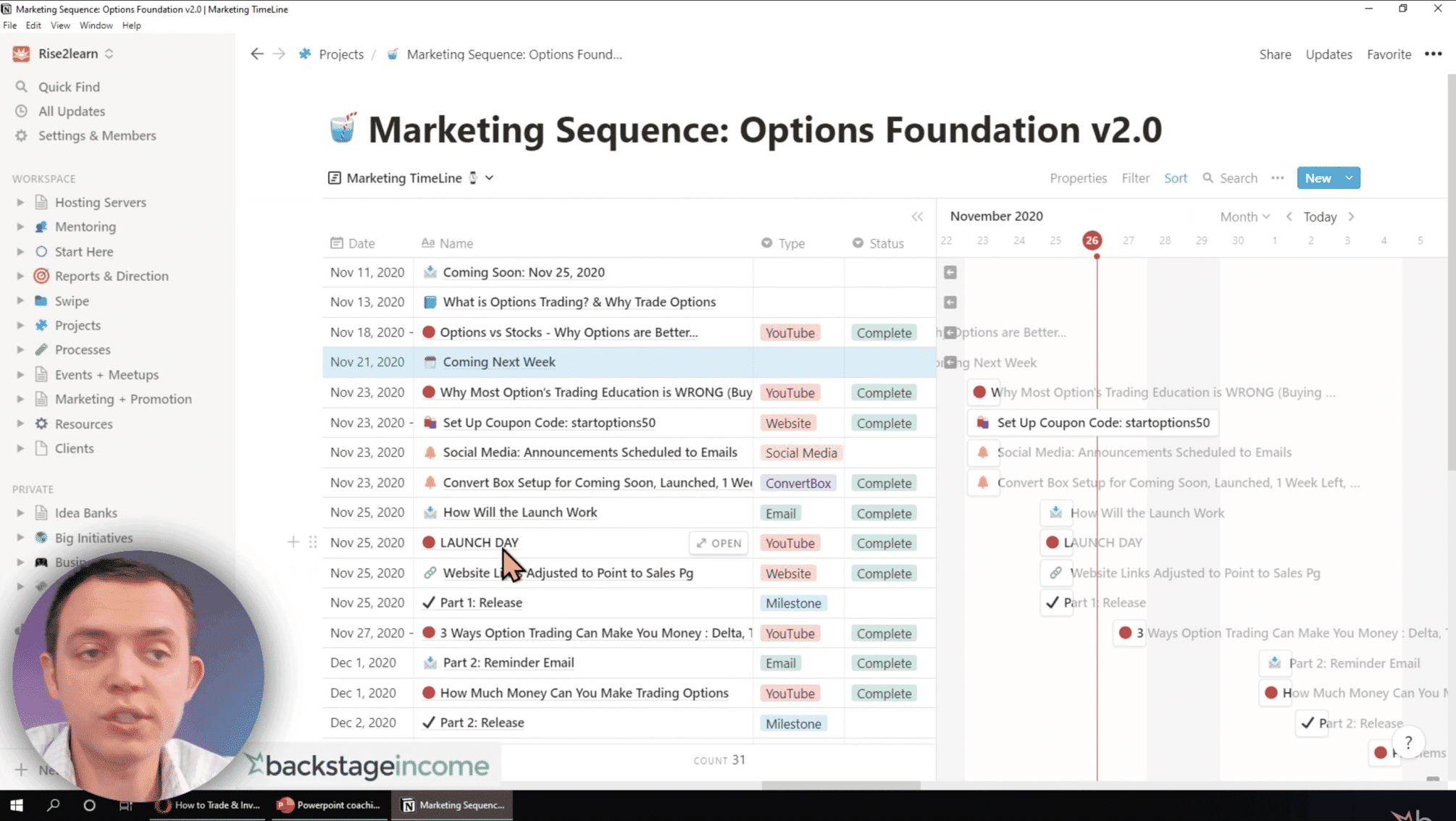 Before Course Launch
Our new course — Options Mastery Foundation version 2.0
What I basically do is go ahead and say, hey the website needs to be updated or what are the emails that need to be written out. I even have some things like, hey happy new year tomorrow. There's a webinar that's already going on for January 19th. Even though right now we are in November, we already have an email here scheduled and it's already complete.
This is the type of task it is. There's only a few things that I do for launches. It might be 'email', 'social media', 'convert box', which is like a pop-up, a 'website', 'YouTube' and maybe a 'milestone'.
I don't really use ads as much right now. But in some cases, we use ads. And in that case, we'll add in another type, and then we'll be playing with ads or advertisements.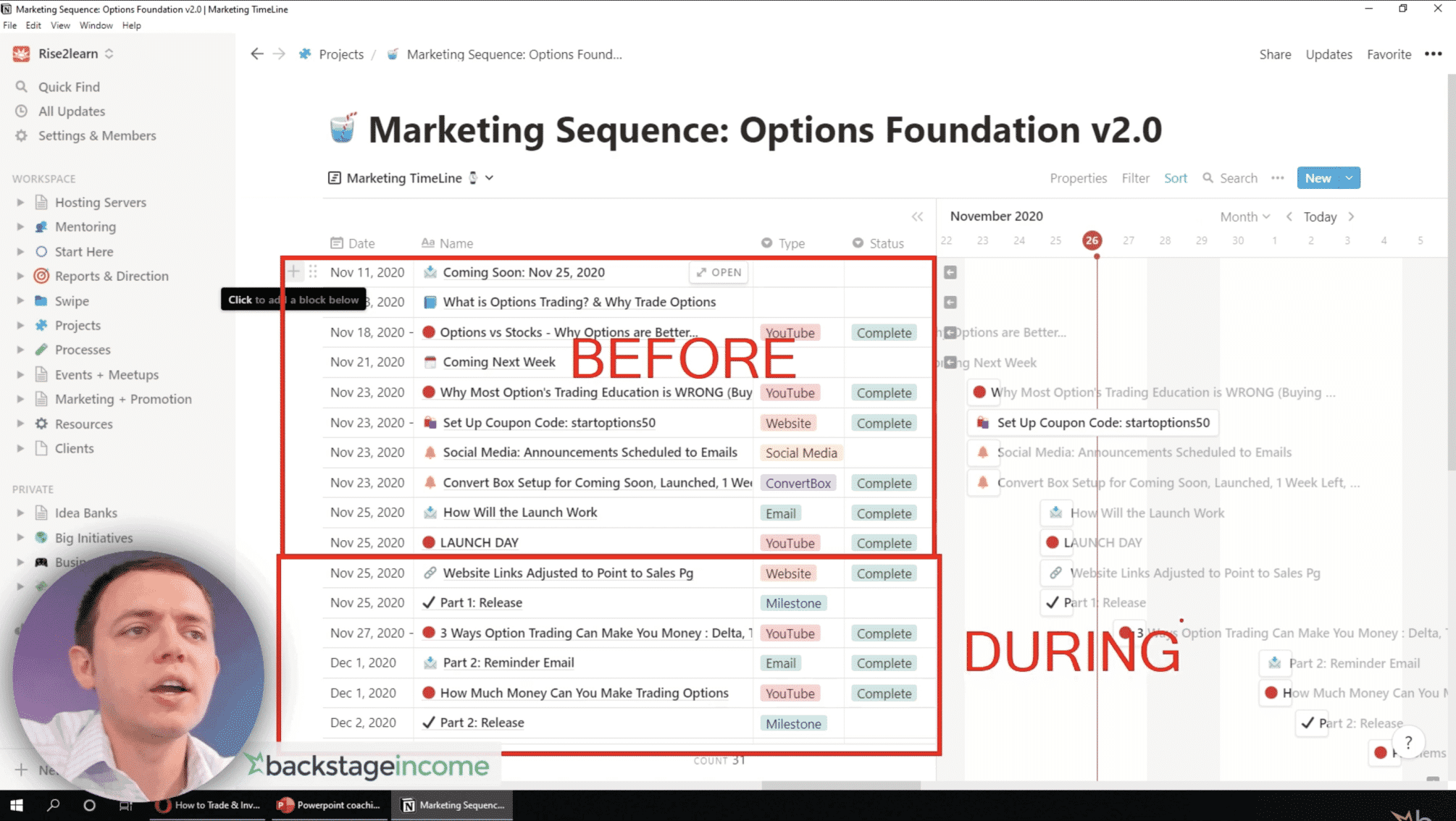 From a basic launch perspective, you're prepping people and the question is, are you doing a lot of like coming soon videos? So in that case you might do a bunch of coming soon areas. In this case, you've got coming soon, coming next week and then you set up the coupon and then, boom, it's launch day.
There's a lot of things like, here we've got a lot of stuff before the launch.
Then all this is maybe like during the launch.
So you can see there's a handful of things before, then there's during the launch as we're launching.
As the sale is happening or as the course is active, this could be like an open enrollment. If you're doing things like, hey it's open, now you can join and then you'll do a bunch of other things after it's closed.
Now in my case.
It's more of when the coupon is closed.
We leave the courses open because you never know when people are going to join your course. So in our case, we leave it open because we have people that get more interested in investing all the time. This is for the investing part, one of the investing courses.
So, it's like, hey last week to get a discount, few days boom it's over.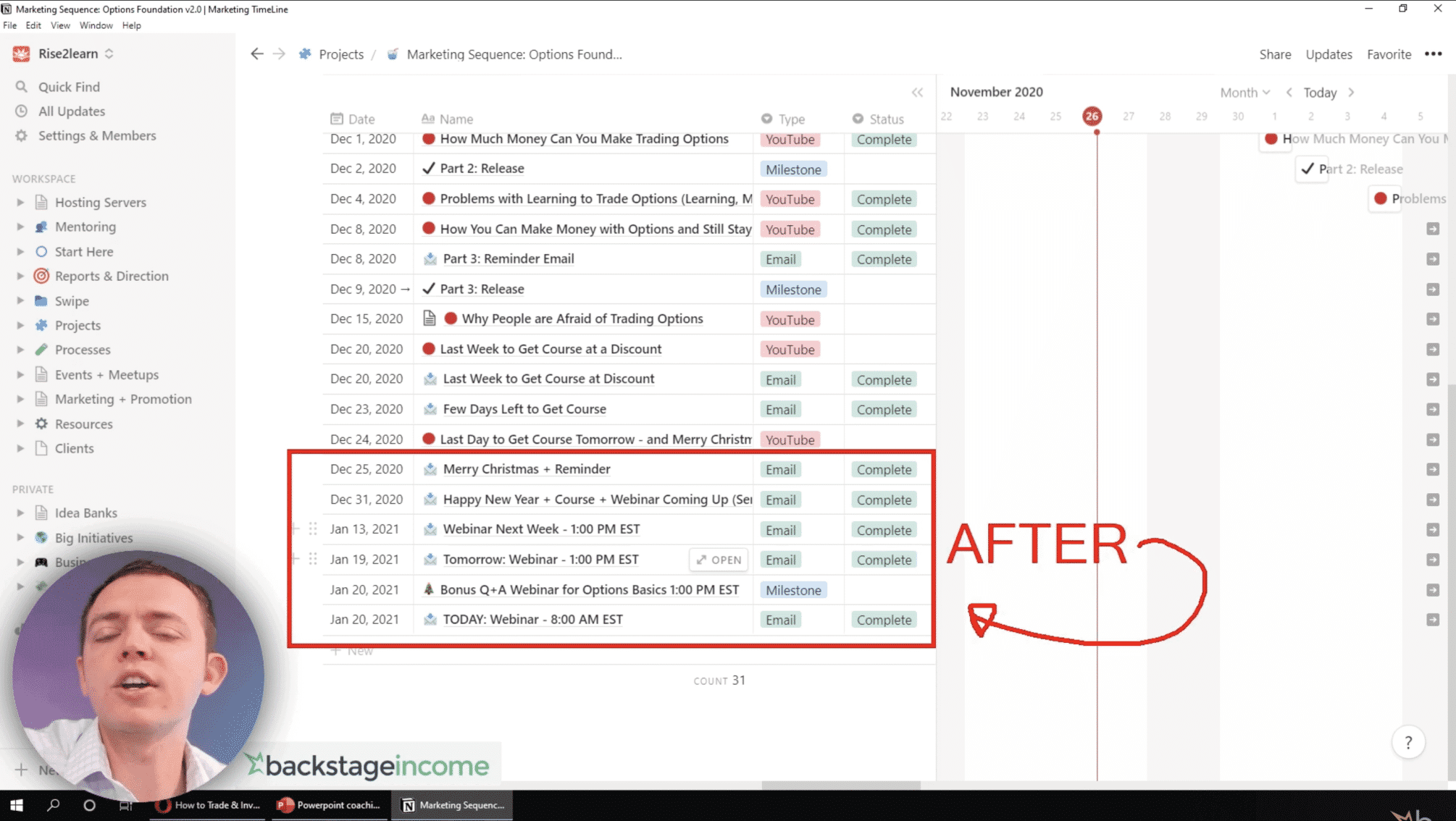 After the Launch
Even after there's an opportunity to get the course, we may remind them. And if people contact us, they can still get a discount — so we give another opportunity.
You can see there're three levels to it. It's like the 'before the launch', 'during the launch' and 'after the launch'. You have all those sections and as far as planning it out.
So I might look at things from a board view.
This board view gives me like, okay, well here's a couple of random things, here's my milestones.
Here's all the YouTube videos I need to do. You can see I still don't have all of them complete. I have a couple of other quick videos that I need to do.
Here's all the emails we need to write and those are written out already.
There's some social medias to schedule that one's not complete. So we need to maybe either look into that. Maybe it is complete by the team member, we just didn't flag it.
We need to set up the convert box for these different areas.
Website links adjusted, set up the coupon code that was done.
So put in all your things, this is basically what I do. I put in all the things I need to do here and I organize them by category. Then what I might do is hop on over. You could do it by calendar.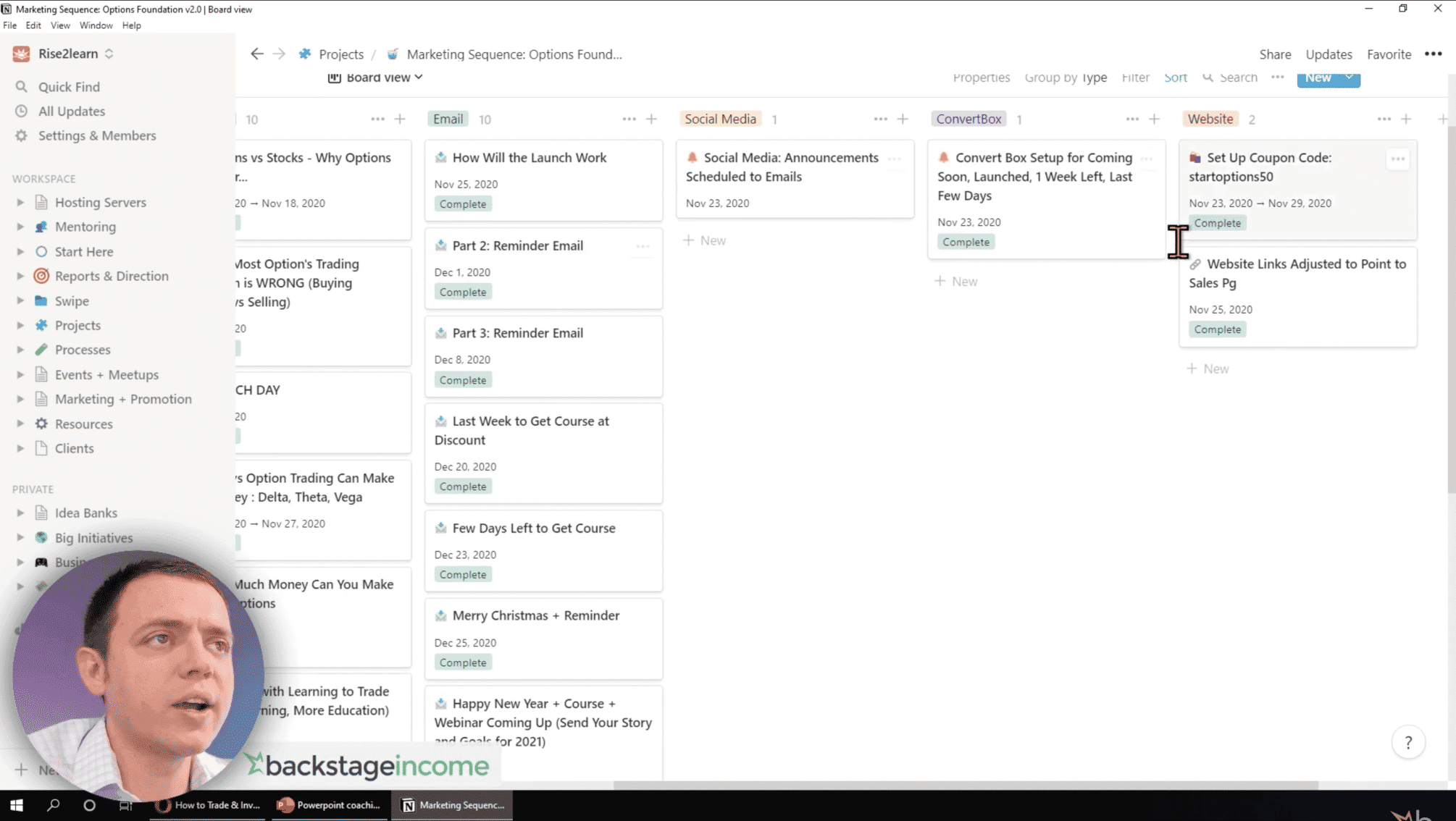 So I could see where did these things go, so I could either take a look at things on a calendar.
Either move this around over here or move it back over there.
You can go ahead and then schedule it based on the dates where you want them to be and move them around if you want to do it that way. Then I really like the timeline.
That also gives me a good insight, a bigger picture. It's a little more difficult to see that zoomed in but if I zoom out a bit, you can see that.
This is really handy to see. Then towards the end of the launch finally we do like a bonus webinar and that kind of concludes everything.
This is just sorted by date. So that's a nice view and approach, kind of like looking at the timeline. Sometimes you can also use this as far as how long will something take. In my case, it's like, hey that's the do-date. D-O date not like due, d-u-e, but do like doing it that day.
So I look at it in this way.
For the date and of course you could just look at like any videos you want to launch.
You could filter that by the videos. You could do it by a detailed list.
Here's a full list of everything's going on, sorted by date. You can see there's a few things not complete, so I could just quickly look at this okay which ones need to be complete. I could just quickly change things up and that's a good way of looking at things. You know most things are good to go for the launch and I do have a few more things to do because you could pre-do a lot quite a bit of this stuff. That's what I typically do.
I'll redo a bunch of things or do things ahead of time. So this way, those things are at least done or it frees up some workload but as far as doing everything ahead of time, sometimes that's a little more difficult because you also want a little flexibility in your launch in case you need to tweak things move things a bit this way or that way. So I try to give a little extra flexibility in that, if needed.
That's basically the way that I do it. Sometimes I will mark things like notes as well for the video.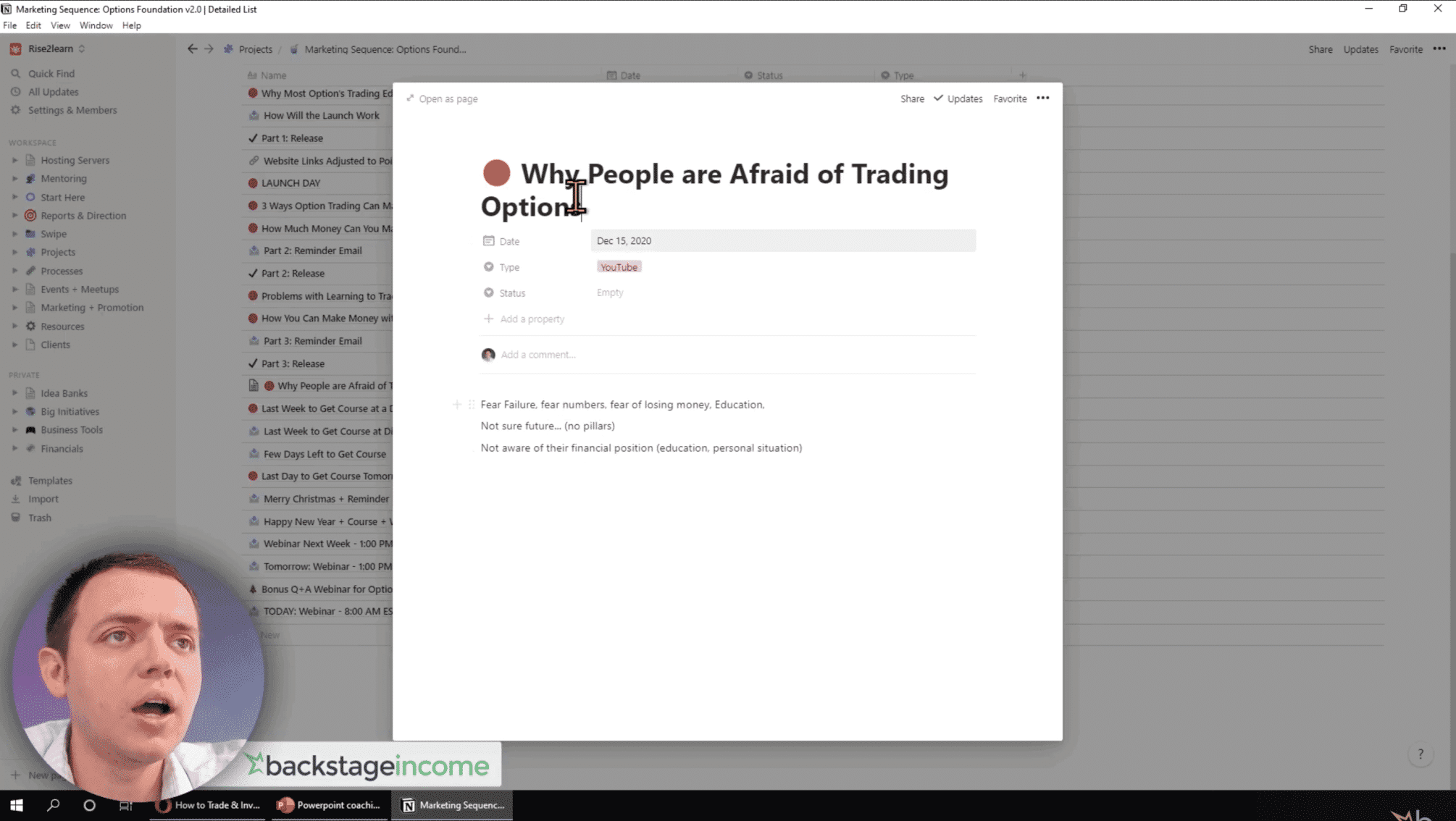 I might put in notes and that's what you see right there.
There's like a little icon there. So if anything has that there then that would be it otherwise it's like email recordings, maybe like a milestone, maybe an alert on the calendar and that's basically it. That's my whole launch sequence. It doesn't have to be complicated but of course you do have to do all the things that go with it, whether it's updating kind of the website, the links, the buttons, the sales pages. Making sure they work properly.
So, if let's say I want to add a sales video, I could go ahead, and we'll do like a recording and I might make this one a little different. So let's say I've got a circle and I might do something yellow so it stands out or green.
You could even do something like that like, record sales video for the website.
Then this could be, let's say the sales videos would be launch day, so that was the other day which I already did.
It is complete.
That was for the website
So you could see now you've got like a little system of things that you need to do and take care of. That's the way you would look at it and then you can see once you go into the marketing timeline.
There's my sales video and it stands out a bit because that one's a little more critical maybe.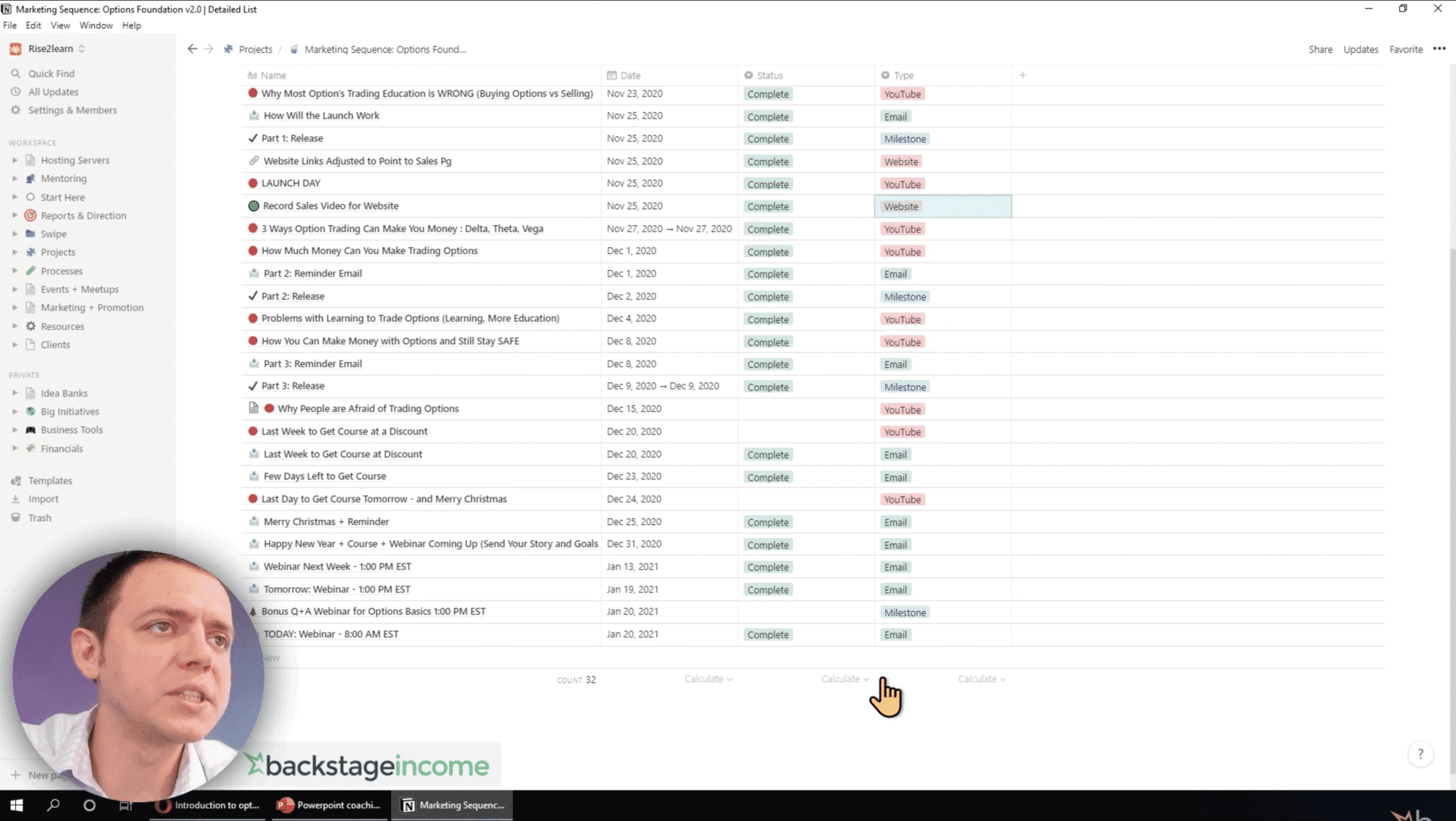 That's the way I look at launches. That's the way I approach them and the way I kind of manage and manipulate the schedule for it and I do this in notion. You could do it in air table, you could just use sticky notes.
Whatever your heart desires, that's up to you. That's not the big thing. The point is, just schedule things accordingly and get a few things done ahead of time. So that way, as your launch is moving, you don't have five things to do every day. You could at least do one or two things every week, but at least it's not like five or ten things to do per week. I usually do about 50 to 70 percent of all of this before the launch week happens and then maybe the remaining part as the launch is happening. I just kind of slowly work on it with time.