A lot of people are wondering – Do I go focus on making my video course first or should I build my audience first? What should I do?
It's a tough road and tough thing to think about. I do have some quick tips that you could check out on our freebies section. There's a lot of other great things. If you're just starting with your niche, if you're trying to figure out productivity hacks — check out this area. There's a ton of freebies here at backstageincome.com. This is a good resource to kind of start things out.
Looking at course versus audience — I think, for a lot of people, they want to make a course and then sell it.
What people do is they kind of start with the end mind.
What they do is they start building the course first.
Now, the issue with building the course first — you recognize that with time as you're growing your audience, your audience does not like your course.
This could be a little bit of an issue.
Let's say you spend months building that course and then it's not successful. So it does not work — meaning, there's no sales. Maybe your course is great but it does not work as far as what you wanted it to do. You're not getting any sales.
That can be a little bit of a problem and issue.
The downside to focusing on your audience first — your audience might want a course but the problem is you have no course.
You have nothing to sell them and it takes maybe a month or two to get something going.
That can be a little bit of an issue as well.
Let's say this is our timeline.
As I'm building my audience, I will know what type of course they are interested in. And in that case, I start building and working my course as well.
In this case, you're starting to move production.
Here's my course and as I am building my course, I'm still growing and continuing to build my audience. Eventually, what's going to happen is you'll get to this this time frame where your course is done and you have an audience.
Building them together is what you really want.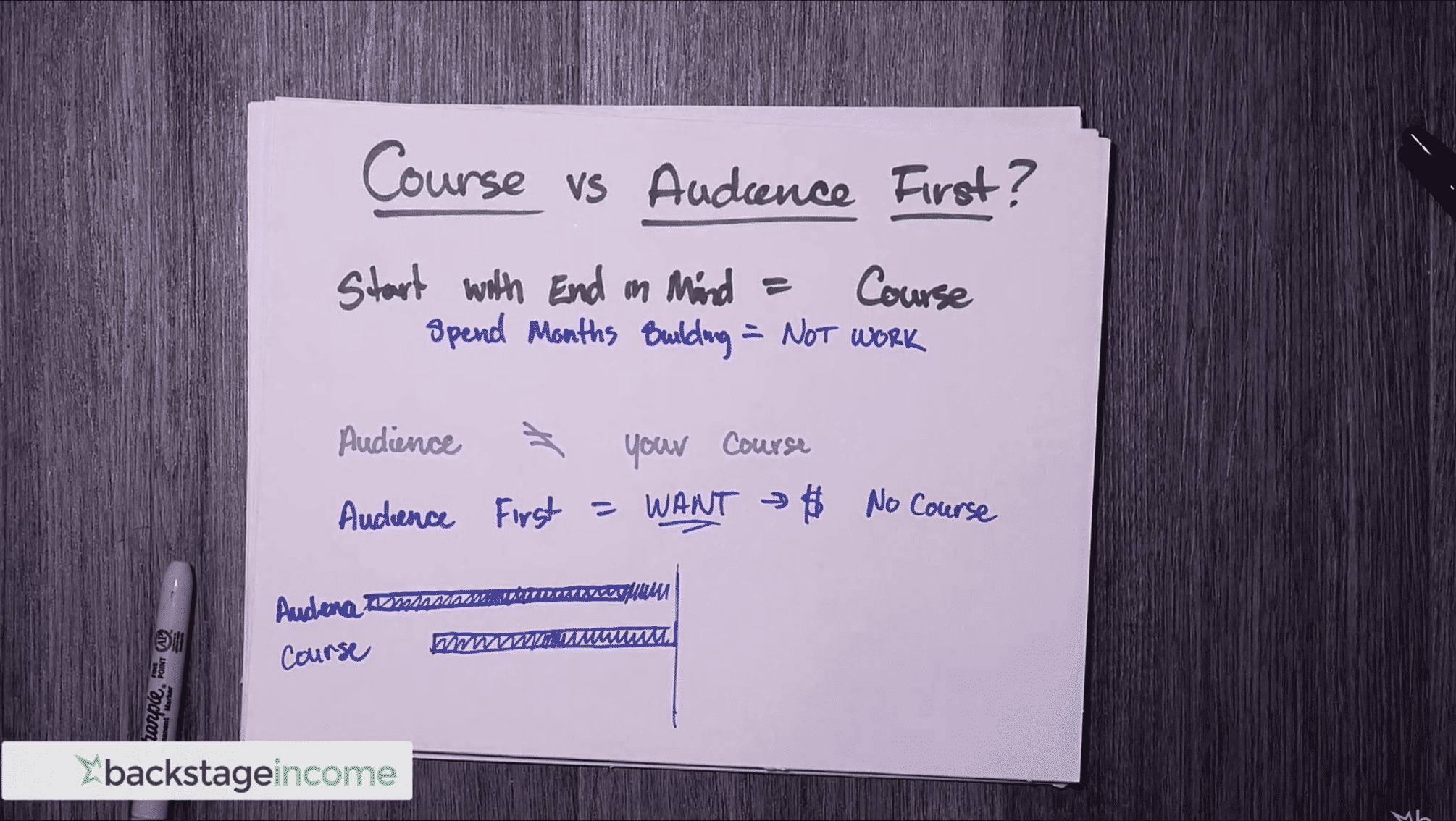 But if you start your course too early, you don't know your audience because you might be testing out some things.
Think of it like a shotgun approach. I'm testing this little few videos or these blogs and sometimes some pockets may have a larger audience and other pockets may have a smaller audience. So when you do a course, you're trying to focus on your big audience pocket. Just like in my case, I might be focusing on things regarding ebooks, courses, coaching and mentoring. I also have some in a division with investments in trading.
But here's my pocket and once I discover my pocket that's when i start working on my course. That's what I would do if you're just getting started out.
In either case, long-story short, focus on both.
But you need to get the audience first. If you have no audience there's no point for you to make a course.
If you can't get the audience again, there's no point to make a course.
But once you're starting to see traction in your audience, then you can start working on the course. Even if your audience is small because by the time you get that course going you can project roughly what your audience would be or as it continues to grow it should continue to expand.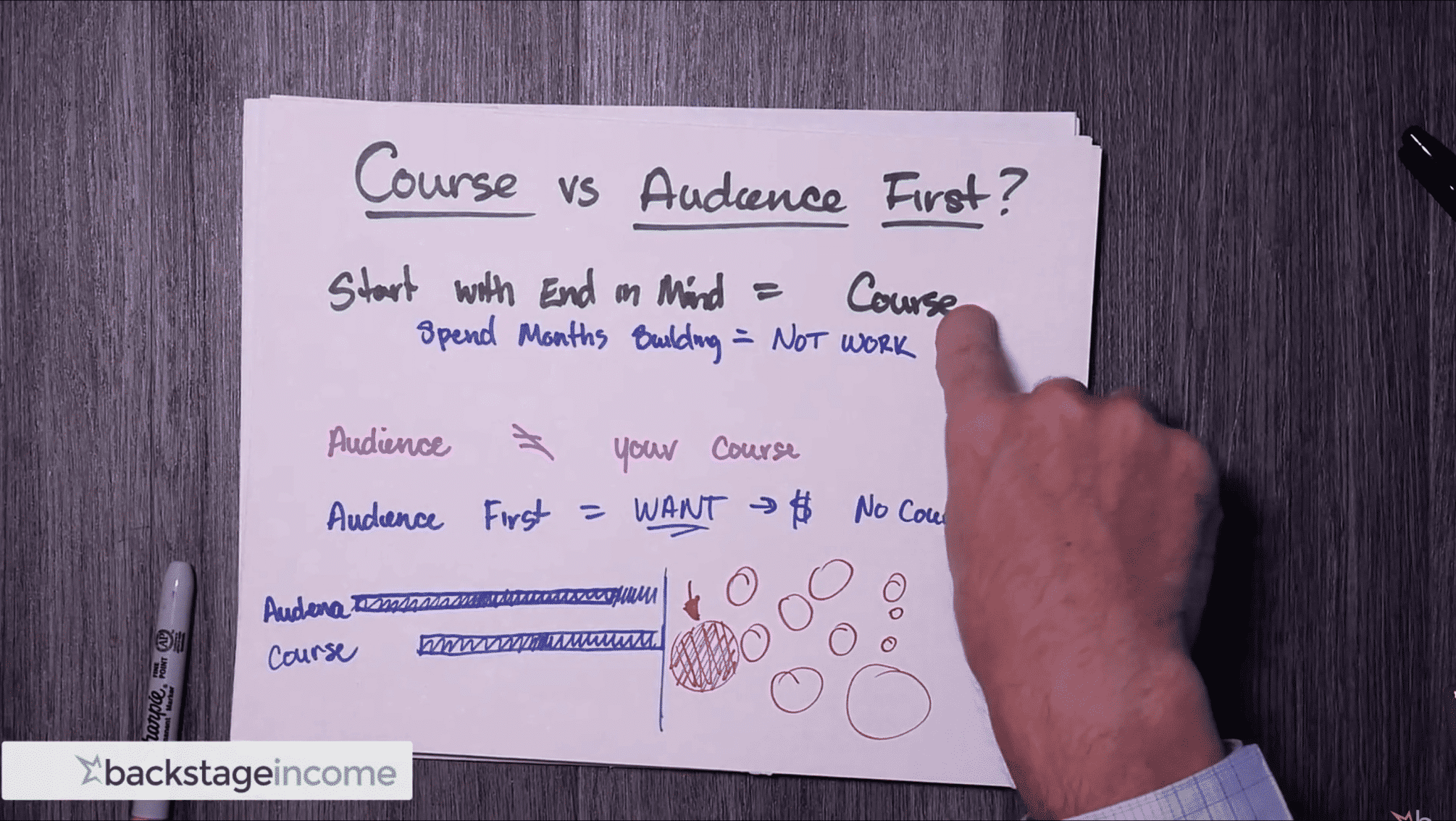 Make sure that you have them lining up — that the course that you're creating matches your audience. That's really the case in point to make things simple. But if you don't do that, you could just be building a course and then all of a sudden it just doesn't work.
If that happens to you, use that as a bonus to other courses that you develop.
Sometimes, you develop a course and it's a flop. That may happen.
What do you do? You use it as a bonus like it's included for free in one of your other courses. It just brings up the value of the other course that you create — maybe your other premium product the one that actually works and the one that sells.