Listen to the Podcast
Today I want to share with you how you can make a living with your writing.
If you're a writer I know you might be wondering how can you make a living with your writing. I find that a lot of artists (not just writers) have struggled with making a living.
This advice can use anyone who's more artistic to get some ideas and to be able to create a full-time income from your writing or your artistic side.
A Proper Way of Thinking When It Comes to Business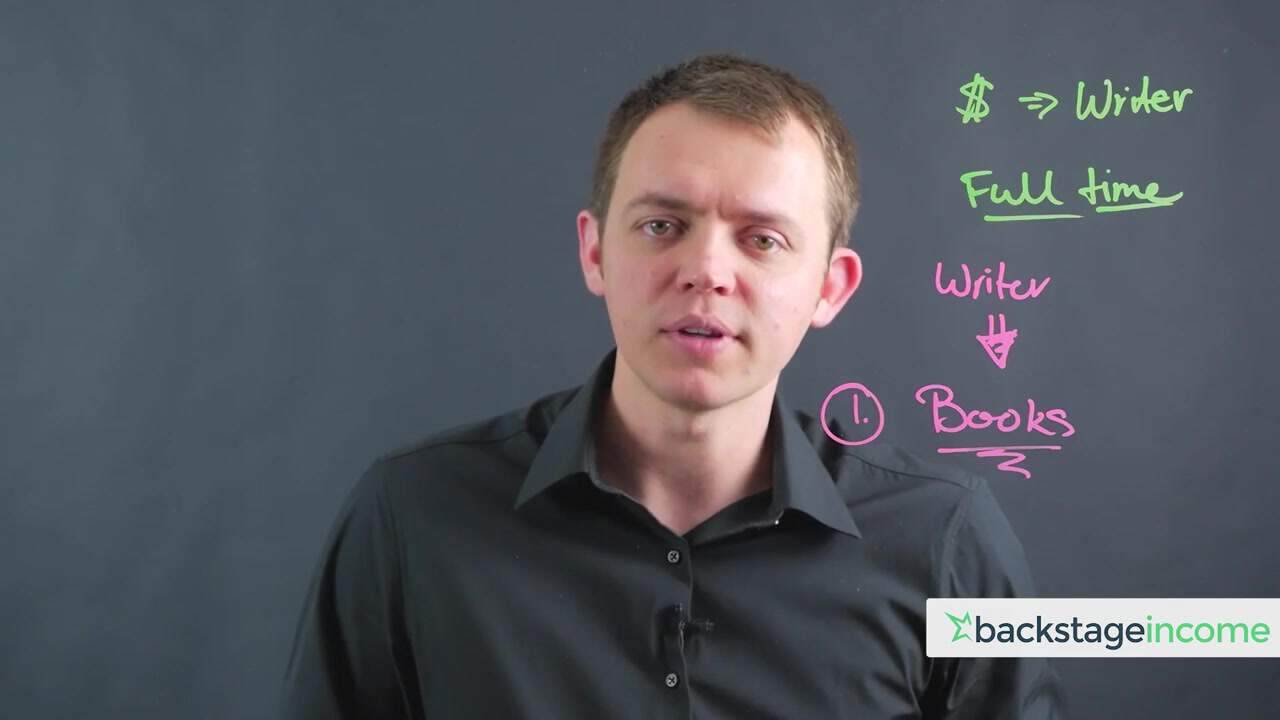 I'm going to focus on the writer's side. A lot of writers usually think of just writing books when it comes to making money…
You have to remember that when you look at a business, you can't have one product. Especially when you're self-employed, or you're an entrepreneur. I agree that some people have this "one thing" that made them a fortune. And it does happen from time to time.
But generally speaking, you want to look at your business as a pyramid. You have a base that is getting your audience, and traffic.
This is how that pyramid could look like:
TOP level – $2000 product
Level 4 – $1000 product
Level 3– $200-$500 product
Level 2 – $10-$50 product
BASE level 1– free content
The thing is whatever you're doing you have to look at this business in a stair-step fashion. Most writers look at level 2 at the beginning (when they want to make money). But they need to start at the beginning.
I've created a few ideas for you to look at your writing and some guides where that income can come from so.
Now you can see what I have for you:
Product section
Client section
Other section
You could come up with other ideas for you, depending on the niche you're in, but if you're a writer here might be a few helpful ideas for you.
1 – Product Section – The Main Income Source
This is the place where are you generating income or revenue. When it comes to your products this is what you can make:
Books
PDF
E-books
Audio
Templates
Courses
The critical focus is your book, but in that case, you could also get the PDF which would be a Kindle book, or it could be a downloadable PDF. In that case, you make extra money where you don't have to pay Amazon or other people commissions.
You could sell the PDF through your blog, so this could also work. Selling your books and audiobook would be the Amazon way. Some people love to listen to books in their cars, and you have to provide them that option. It's in your interest.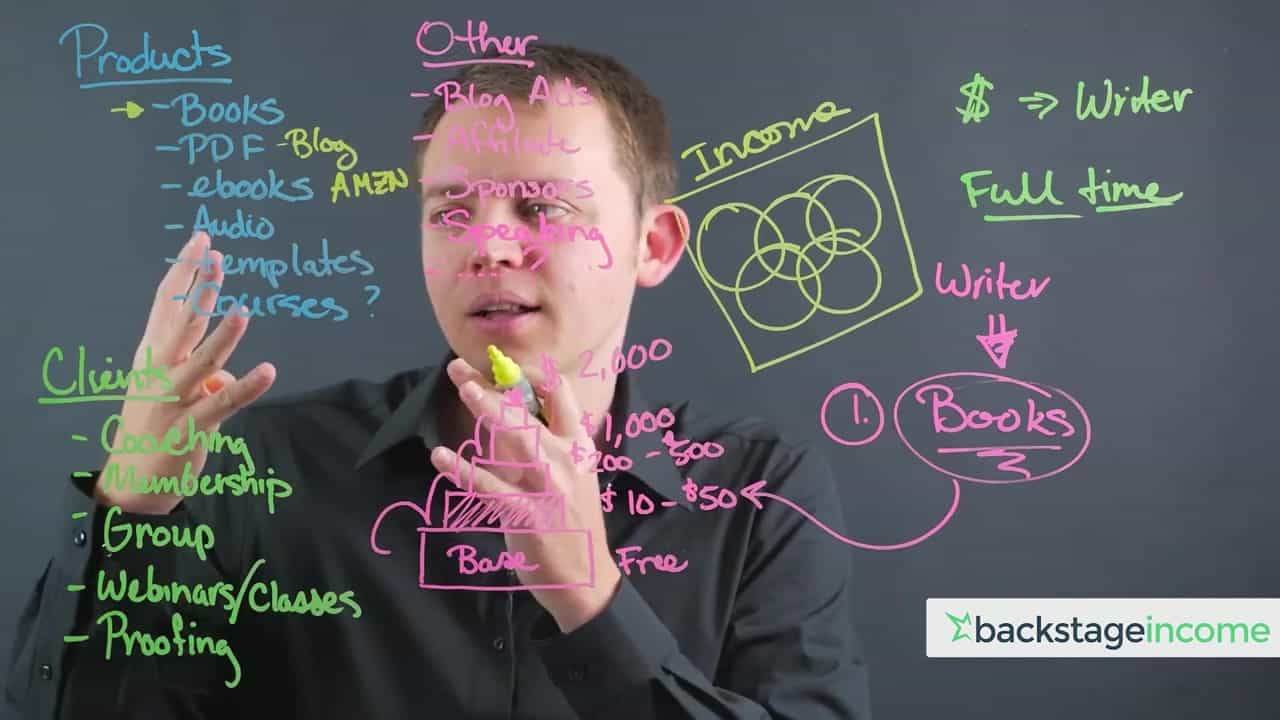 More streams of products allow you to be able to sell more items. You will start generating additional revenue or income. You can also sell templates. Let's say you're a writer and maybe you're coaching other writers. Think about that too. You're able to pass on your knowledge on other writers.
If you're a motivational coach, daily planner or nutritional coach you could create a template for people who are interested in these subjects.
On these templates it can be something like:
Top 10 foods
A nutritional guide
Here's a meal planner
If people are interested in learning more from you, you can create these courses. Depending on your expertise you can make several courses in a short time.
A book might be $10; a PDF could be $5; audiobook could be $30. They're all different. A course could be $200, so you're stacking at various points and levels throughout this pyramid.
2 – Clients Section – More Personal Way of Making Money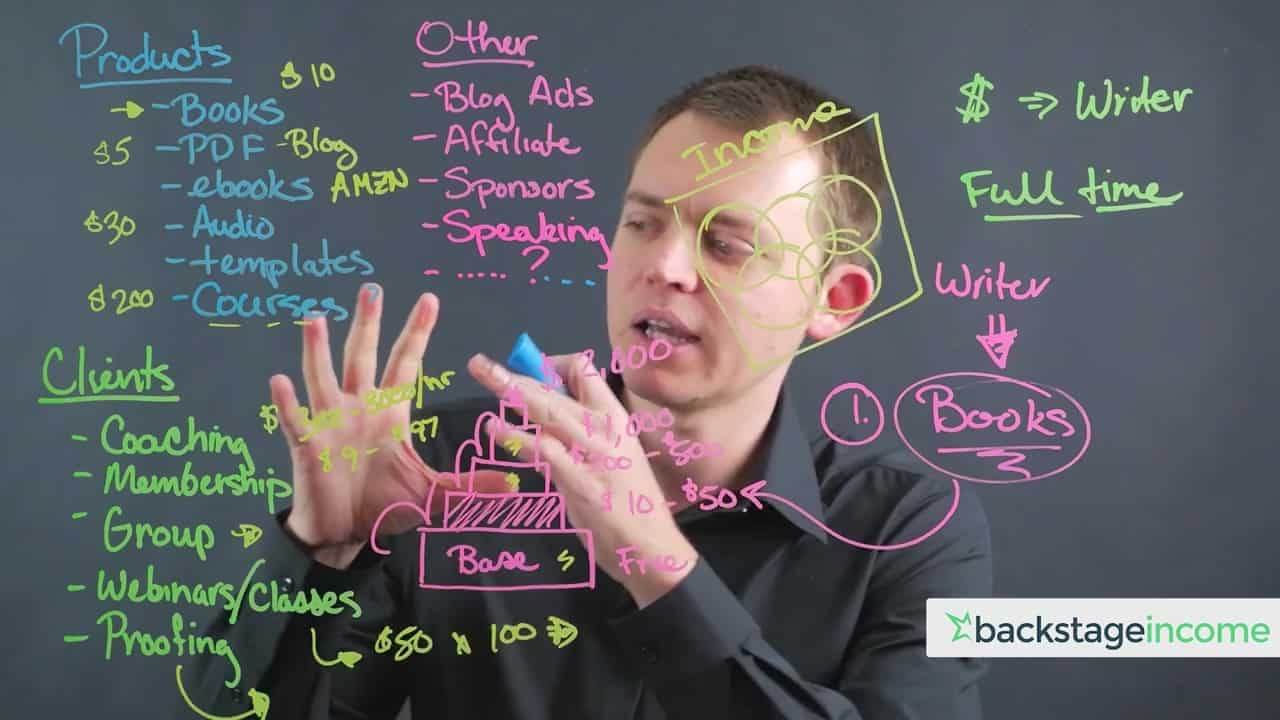 The same thing goes here with clients. There are some aspects you need to review:
Coaching
Membership
Group
Webinars classes
Proofing
Let's say you do one-on-one coaching – this could be $300-$3,000.
Membership could be 9-97% a month. Something group related it could be a group meetup or it could be a group coaching. What's important is that when it comes to clients – it all becomes a little bit more personal.
If you get into clients webinars and classes, you start generating more revenue than just selling your books. Especially if you're doing any proofing, if you're a writer and you like proofreading then you can make some additional income that way as well.
3 – Other Sections – There Are No Limits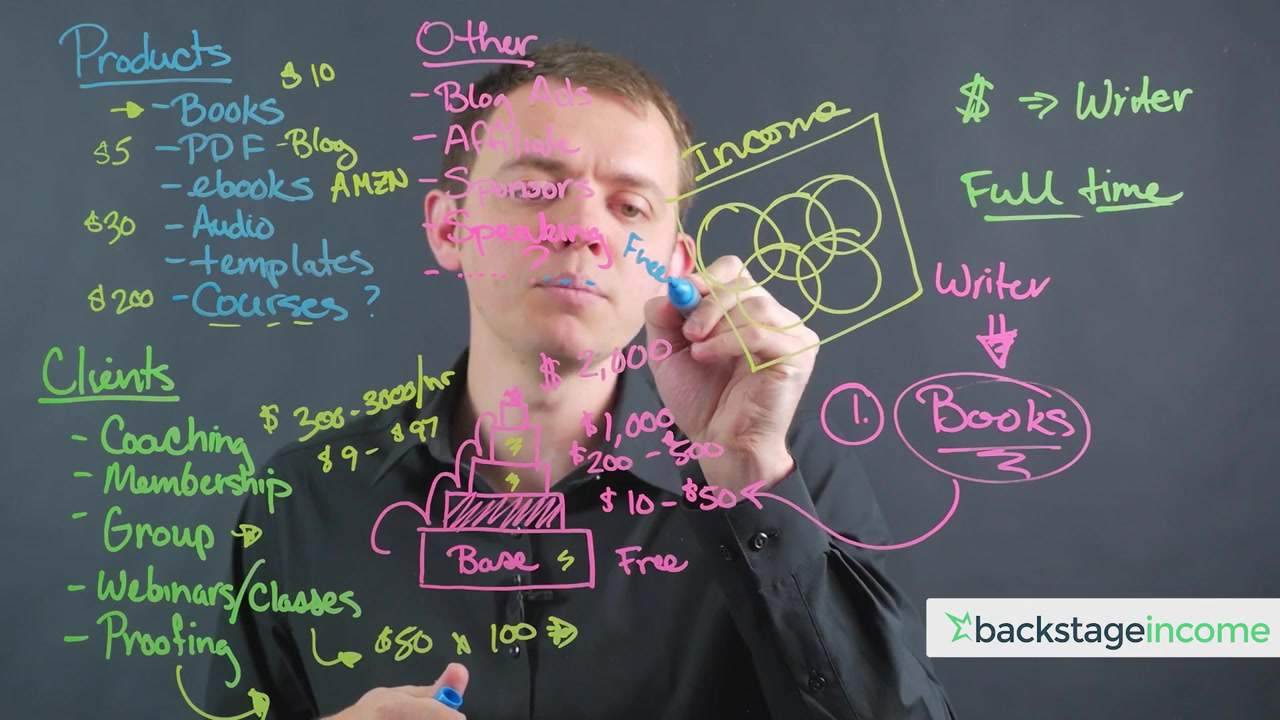 When we go to the other section, we can say this is just all about being creative. Ask yourself what the other areas are that can make you money.
You can count on this:
Blog Ads
Affiliate
Sponsors
Speaking
Something completely different depending on what niche you are in and on your level of expertise.
Conclusion
You can see that there's a lot of forms, but it comes down to expanding your distribution and your product line.
This would be your product line when you're a writer. You start from a book because you're an expert and now you start adding more subsections, developing these areas for your business.
You have to understand that sometimes when you do things for free, you're doing that to be able to sell your courses or templates. You need to work at distribution in all these different mediums so that way you can generate income and take people to higher form.