Listen to the Podcast
We'll talk about eBooks versus video courses —
Which one is better for you?
Which one has more advantages?
Which one makes you more money?
Which one's faster to produce? and
Which one should you start with first?
There's always this debate — do I start with an e-book? Do I start with a video course? Which one should I do?
I have developed, designed, and created a lot of video courses. I've worked on a lot of different books. With that in mind, I have experience in both.
I see which one makes me a little bit more, which one makes me a little bit less. So, I'll share with you my insight here today.
Which one is easier to make?
Which one can you start with and crank out on a weekend?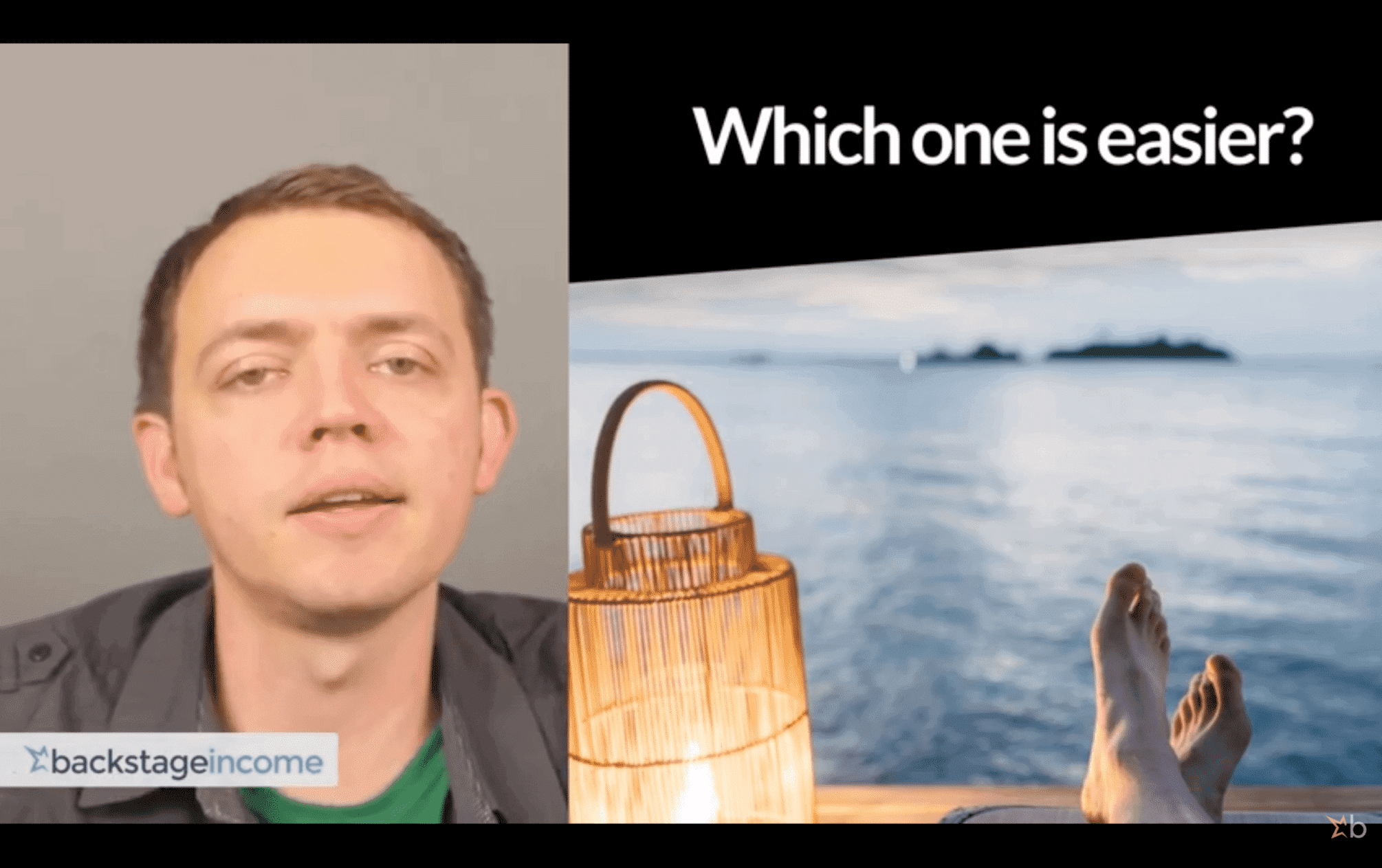 Probably an e-book. You can make an e-book very, very quickly. Simply because you can speak it and when you speak it, it goes down on paper — or in this case a digital front. Just like you can with a cell phone these days. You speak, the phone types it out for you.
This is more of a how-to book. It's not necessarily a novel story. It's more of a how-to book that you can just crank out maybe ten chapters, twelve chapters.
Just think of the headlines. Think of the sub-headlines. Speak them out and then you get yourself an e-book of twenty-five thousand words. Later, you're all set to do a cover. Good to go.
It's a lot easier to produce an e-book.
When you talk about the production value of a video course –there's much more involved.
There's video involved.
Just look at the way that this is set up — we have split screens, we have titles, we have a logo down here.
You might need to go and do some rendering. You got to upload it to a video hosting site.
You have to go ahead and do much more selling. You have to sell it because the price of video course is usually a lot more and you need maybe a checkout place on your own website.
Whereas with an e-book, you could just pop it on Amazon and they can do the selling for you.
But again, you make a little bit less.
Which one makes you more money?
If you just look at price to price — a course right now in 2019, you might get for twenty dollars. Whereas, a normal book well five bucks.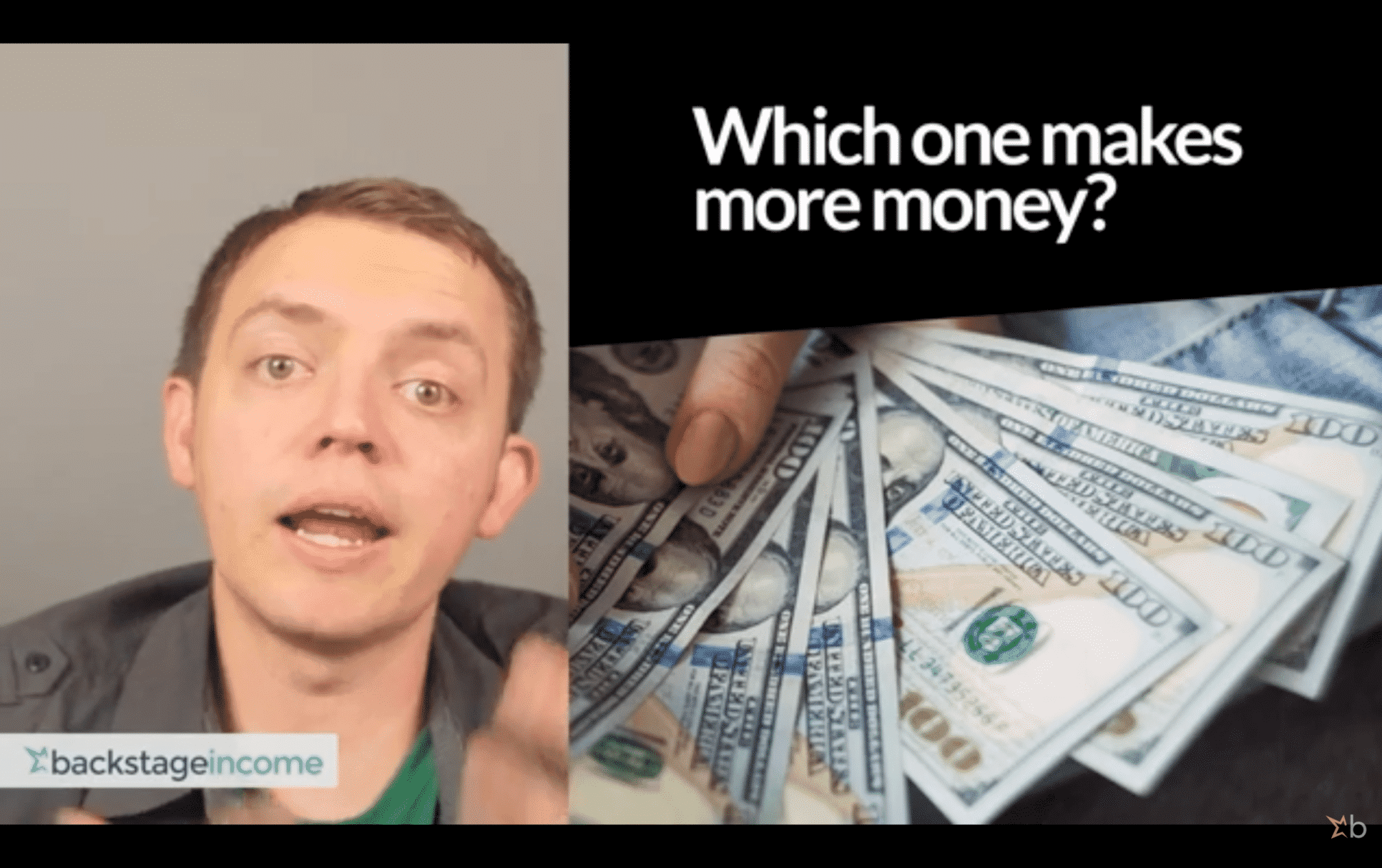 Print books are a little bit more.
If you're looking at a higher tier course, let's say it's a course about investing where you can return on your investment, which is much more compared to a cooking course. Now, that course could range in three hundred, five hundred, nine hundred dollars, even fifteen hundred dollars.
I don't think you can go much more than about fifteen hundred or two thousand dollars for a course. But some people do and it does work out for them.
Anytime you go beyond that two thousand dollar level, you get into more personal interactions. It is just the nature of money. Not a lot of people have two thousand dollars to spend on education and if they do, they want personal attention.
So, you're getting into a finite market at that point.
I would say once you get into a two thousand dollar range, you're looking for one-on-one personal coaching.
In that case, if you're looking at eBook versus courses, you'll probably make more with courses if you can get the same number of sales but that's not always the case because courses are more expensive.
If you miss pricing things and your course is too high, you might sell just one or two copies at three hundred dollars and it's 600 bucks. You're not really making a lot of money.
In that case, it might be smarter to go with the e-book because it would make much more money.
Pricing is very important.
So, if your course is not selling a three hundred five hundred dollars, maybe you should price it at ninety-seven dollars or fifty-nine dollars. Now, you can make way more if the price was the issue.
But the price is not always the issue. There's a lot of other factors that go into courses so it makes it much more difficult
What I like and don't like about video courses?
Number one, I like the fact that it's a higher tier priced product. Typically, when I write an e-book, it is twenty dollars or less.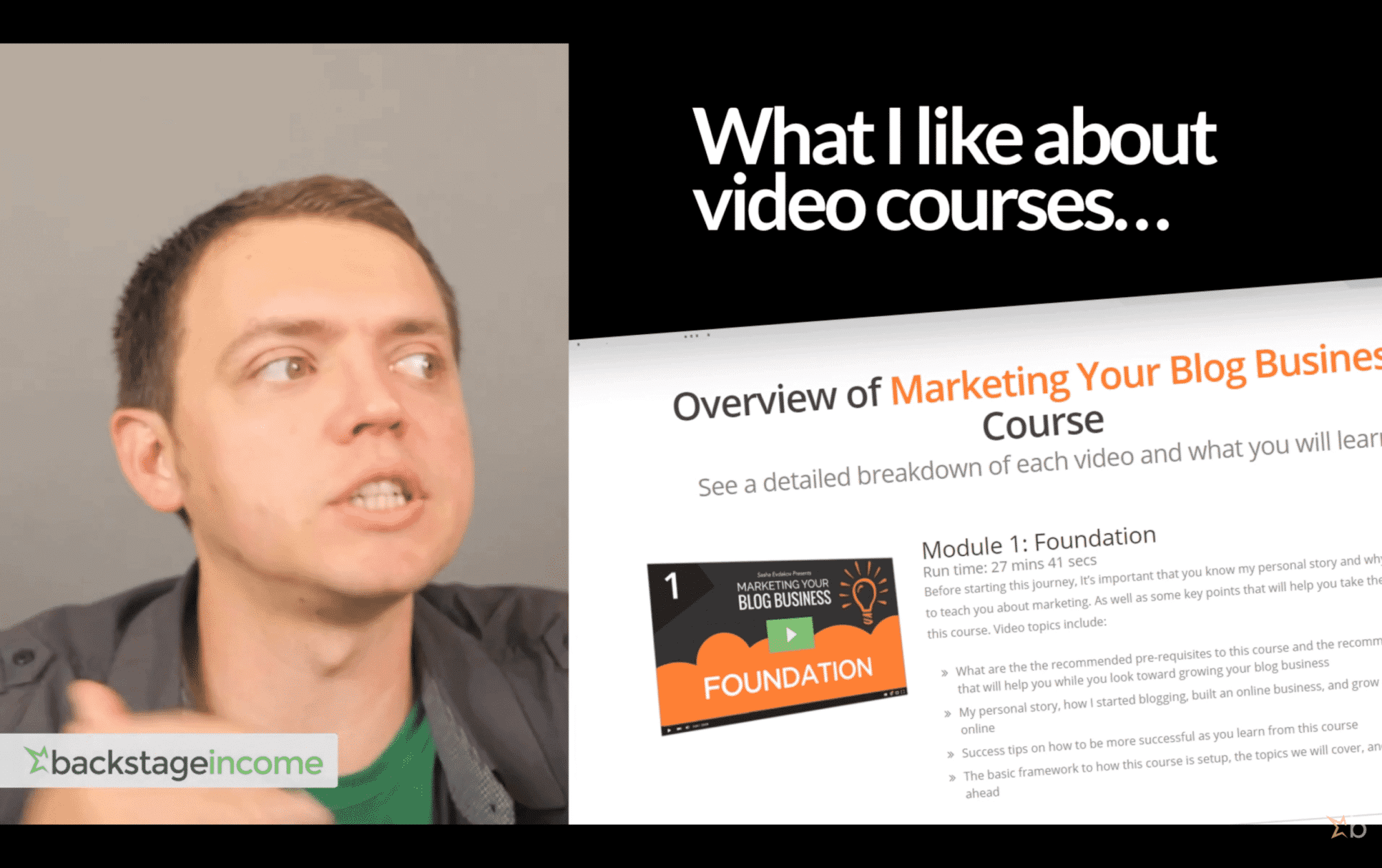 It's a level where many people can still afford it. It's not way out of the price range of five hundred dollars an hour or a thousand dollars an hour which many people or most people cannot afford, especially if you're looking at multiple sessions.
You're also getting a lot more out of it. You get a visual part. You get an auditory part. And you get that one-on-one feeling.
Whereas, with a book you might get a few of those. But the visual part, you have to revisit it. In that case, books have been downplayed.
Even though some books you can get thousands of dollars of value, it's just the pricing nature of the book is much lower.
I like that they're higher priced. I don't like that the production value of courses — takes a lot of time. Sometimes, you make a video course and it doesn't sell, it just falls down to the ground. It's dirt but at least then you could use it and throw it in as and freebies.
What I like about ebooks?
I like that you can pump them out pretty quickly. I also like that you can outsource parts of them. You can outsource much more in eBooks because nobody really knows.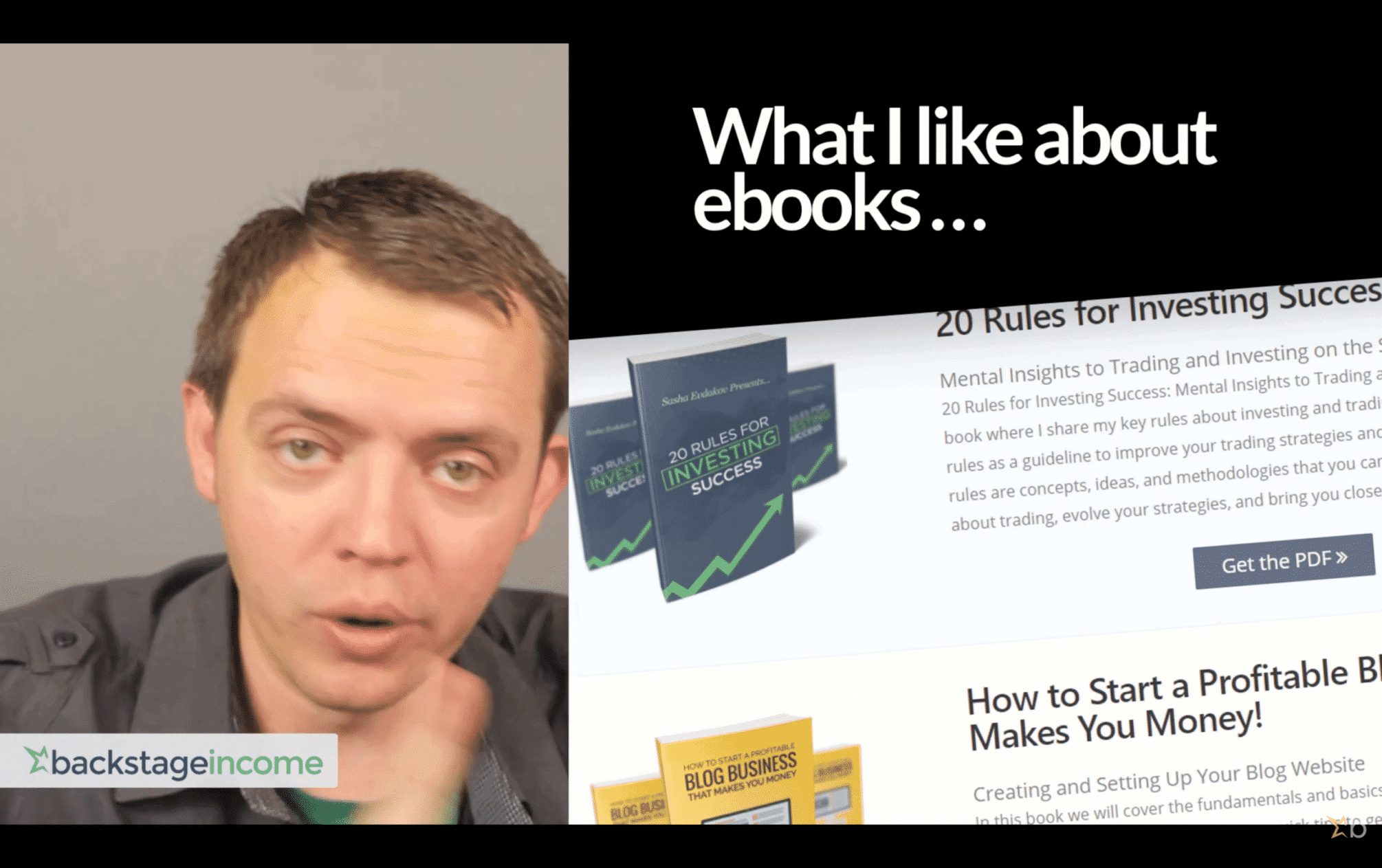 Some of the famous books are in fact they were written by a ghostwriter.
You can do some research on that even some presidents that have some books out, they weren't written by them. Somebody interviewed them and then they wrote the book for them on their behalf. And now you have a book that you can make money from.
That's what I like about eBooks — they're quick. You can outsource them but the downside of course is you make less money.
Which one should you create?
If you've already made a few eBooks, then by all means feel free to go after video course because it takes your customer to the next stage and that next level.
The production is much more difficult. It's tougher.
But if you're brand new — just getting started — start with an e-book.
Make it simple. Simple enough to digest. Quick enough for you to produce so that you learn from the experience of creation and production and showing how much value you have.
After that, you can move the audience to the courses. From the courses move them to the next higher mid-level courses or high tier courses. From those high tier courses to the coaching programs, memberships, and other things that you have.