You might be running a coaching program a mentoring program. Maybe something higher-end, even a video course that's a little bit more premium, and you're trying to sell it but unfortunately no one is buying it.
You might not be attracting the right people.
It really stems from a simple concept of understanding the type of people that hang around your content and information.
If we think of this as a dating relationship, we look at just where people naturally hang out.
If you go in and you say I want to go and meet someone that's really into dancing, you probably want to go around and hang out at dance clubs and maybe go into dance balls and studios.
In our case, what we do as far as the coaching, I deal with people who are interested in investing, learning to invest their money, people who want to trade a little more actively, and things regarding option trading as well.
We have some one-on-one coaching where people can buy a single session. But then also, they can buy some more higher-end tickets where I deal with them for maybe six months to a year, depending on the person. Those can cost about $8000-$10,000 depending on what they're attempting to do.
But in either case, I would consider that a little bit more higher-end rather than a $200 or $500 course that we offer.
Just the fact of going into a higher ticket item, there's a little bit of a difference in landing those clients than maybe a person who's interested in a $19 ebook or a $5 ebook that we have for sale.
It's basically who is your target audience and what are the topics that you're talking about and how is that resonating to all your products and services.
Let's say you run a discount shop. It could also be anything where you're talking about saving money, you're looking at college students maybe how they can you know make food on the cheap side, maybe a lot of DIY related things.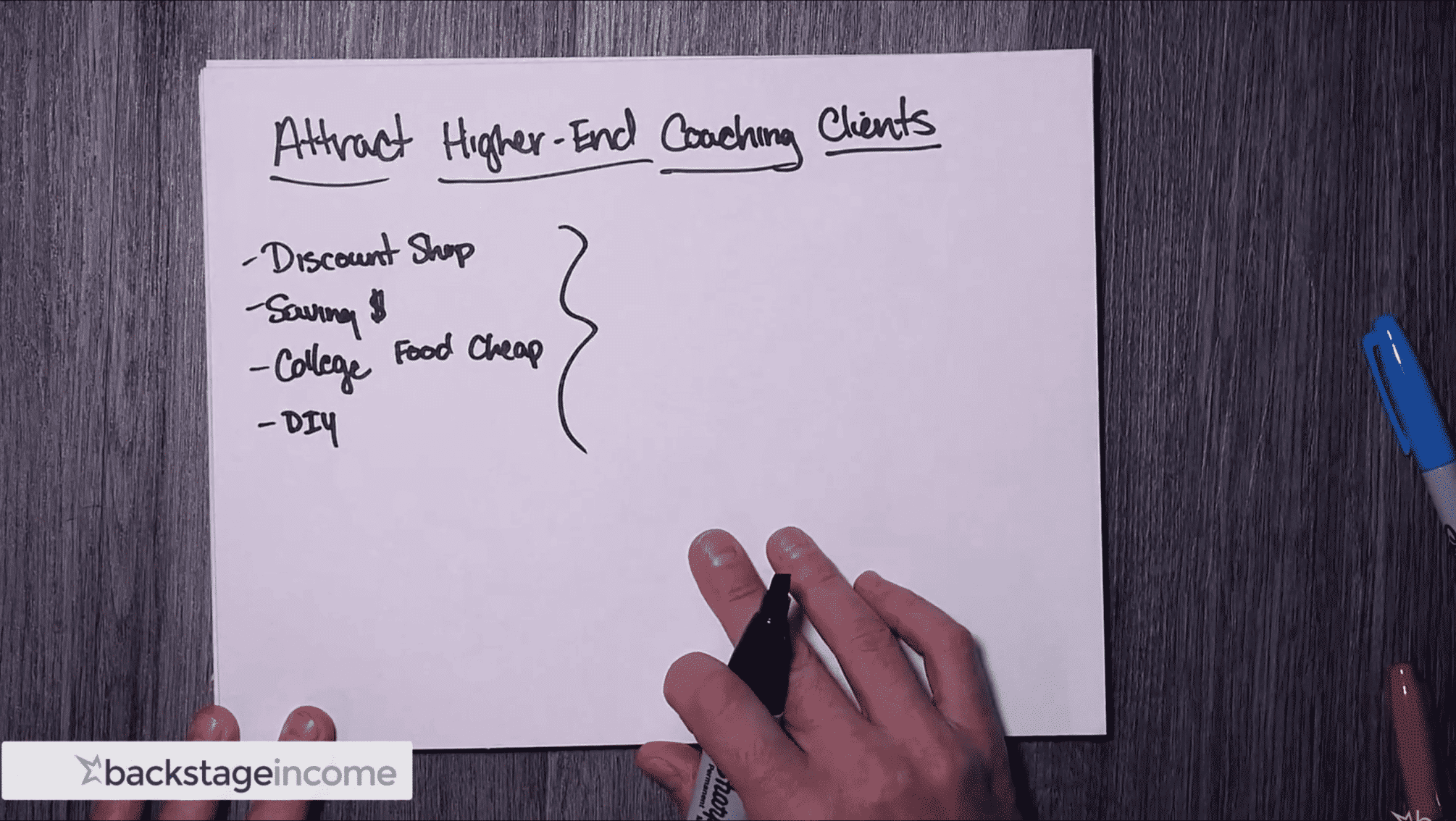 You have all of these different types of contents that may get a lot of views.
Unfortunately, what's the big issue and problem with all this?
If you're attracting coaching clients that are viewing this type of content, they probably don't have the money.
If you are talking a lot about saving money and maybe you're looking to coach people, how to get out of debt, what's the issue with that?
Well people in debt, they got in debt for a reason. They got in debt by some means by not being wise with their money.
Could you coach those people? Yes, absolutely but you just may not be able to charge them as much.
It's unfortunate, but even though you may be able to help them, they may not have the money. You almost have to cater to their parents to be able to do a coaching program like this.
Attract higher-end coaching clients
You need to be discussing and talking about number one the right things. You need to be discussing the right things to the right people.
By talking to the right people and discussing the right things, you get this nice blend of harmony.
Because if you're talking about saving money, discounts, DIYs — those people are not interested in usually buying things.
DIY, you're gonna do it yourself. Just show me how.
Saving money, i want to save money. I don't want to buy your products.
If you're not having the right type of thing or offer, then it doesn't line up and the harmony is just not there.
How do you switch things around?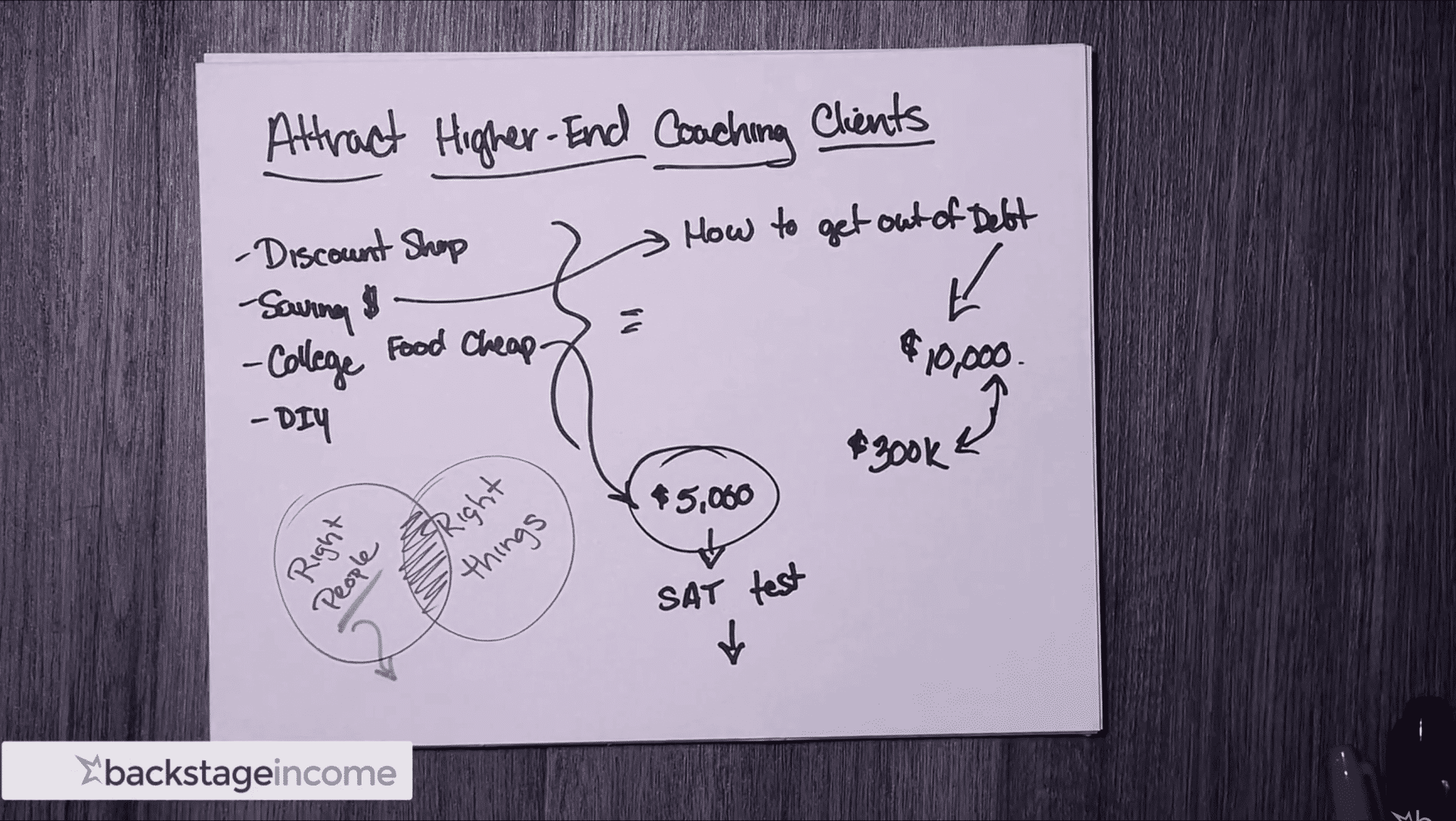 Number one, you need to target the right type of people.
The right type of people are people with money. So instead of how to get out of debt, you might switch this around and say okay how to start a business.
People who are looking to start a business, they have some capital. They want to start a business. They're a little bit more motivated. They know where they're at.
Or how to maybe make money on the side.
There's a little bit of a different motivation behind there. Those people are already interested in moving forward, past the debt part. So that attraction could be different.
Could those people still be in debt? Absolutely, but the mind shift is a little bit different. Now you're targeting the right idea and concept and the right type of people.
The people that are looking to start a business are probably not the same people that are looking to get out of debt because people that are getting looking to get out of debt as a priority, that's more in the front of their mind.
Whereas people looking to start a business, they're probably not in debt. Maybe they are in debt and they have some debt but they have the means to potentially start a business. So that idea and the person now matches up.
That's where you start attracting the right client and customer.
I will warn you that sometimes you may think you're attracting the right person but it's not always the case.
I've seen this sometimes in the trading space because we deal with a lot of traders. When we look at all the educational material that we have and between some of these things we do with the day trading content, what I find is people who are doing day trading and penny stocks — those types of people usually don't have a lot of money. And that's why we don't deal with a lot of penny stock videos. We have some but not a lot.
Again, we're trying to cater a little bit to them as well because maybe people that are into penny stocks still have a larger nest egg.
But a lot of times, what I focus on are people who actually have the means. They're either more retired. They have the wealth. They have a good job or a paying job or a good healthy nest egg. And that's why a lot of the content that we make is more on option strategies. People who are more into deeper learning and looking to make a larger return or use a lot more cash and capital.
By doing this, it attracts the right types of customers.
But here's the issue sometimes
You may think that by talking about fancy cars, or boats and planes — which is what you might see in the penny stock world or day trading — and they may seem like a good idea because now you think I'm attracting the wealthy people because only wealthy people have fancy cars.
The problem with this is you have to remember this attracts the dreamers.
Those people are dreaming about those things and they watch those videos because they're dreaming. They like watching those videos that you're making about fancy cars, boats, and airplanes but they barely have any money to be able to afford your programs or your coaching that you're offering, it just doesn't work out because they just don't have the money. They're dreaming about your stuff but they don't really have the means.
So it's important that the videos that you make and create don't suck in the wrong people.
Sometimes, having the dreamers is not bad because then you get more views and then from that you can get your ideal client but unfortunately sometimes it's just a time sucker because then you start to be putting out energy and vibes where you're catering to people that are more of a get rich quick.
So think about that
I don't know your personal business, what are you coaching people in — is it personal finance? is it maybe a different trade? are you coaching them in technology, maybe helping older people with the tech space? are you coaching them in digital or graphic design? in writing like ebooks and web development? — whatever you're doing, that's perfectly fine. But just understand that the topics you're talking about needs to attract the right type of people.
If you're attracting people that have no means to buy, then obviously even if they do want your program, they won't be able to afford it. But if you're attracting the wrong people, well then they're definitely not going to be interested in your product and they may or may not be able to afford it.
You have to have the right people.