If you've started a blog and you're trying to make sense of it all, creating powerful headlines is one of the first starting points to creating great content. If you don't have a powerful headline, people aren't going to read your blog.
Headline becomes the ad for your content.
Having a strong, powerful, attractive headline can really bring people in and suck readers in. They can actually make them stay a little bit longer even if your content is a little bit dull or not as fresh.
Seven different techniques
Listicles
Like what I did here — Seven Ways to Create Powerful Headlines.
One of the downsides with listicles is that they have an end point to the number of content pieces that you can create.
Five ways to increase block traffic — that's it. There's five ways. There's no kind of creative thinking that goes beyond that. There's those five and that is it.
Sometimes that can be good because people are attracted to lists but on the other hand it's bad because it means it limits you now moving forward.
Little Something-Something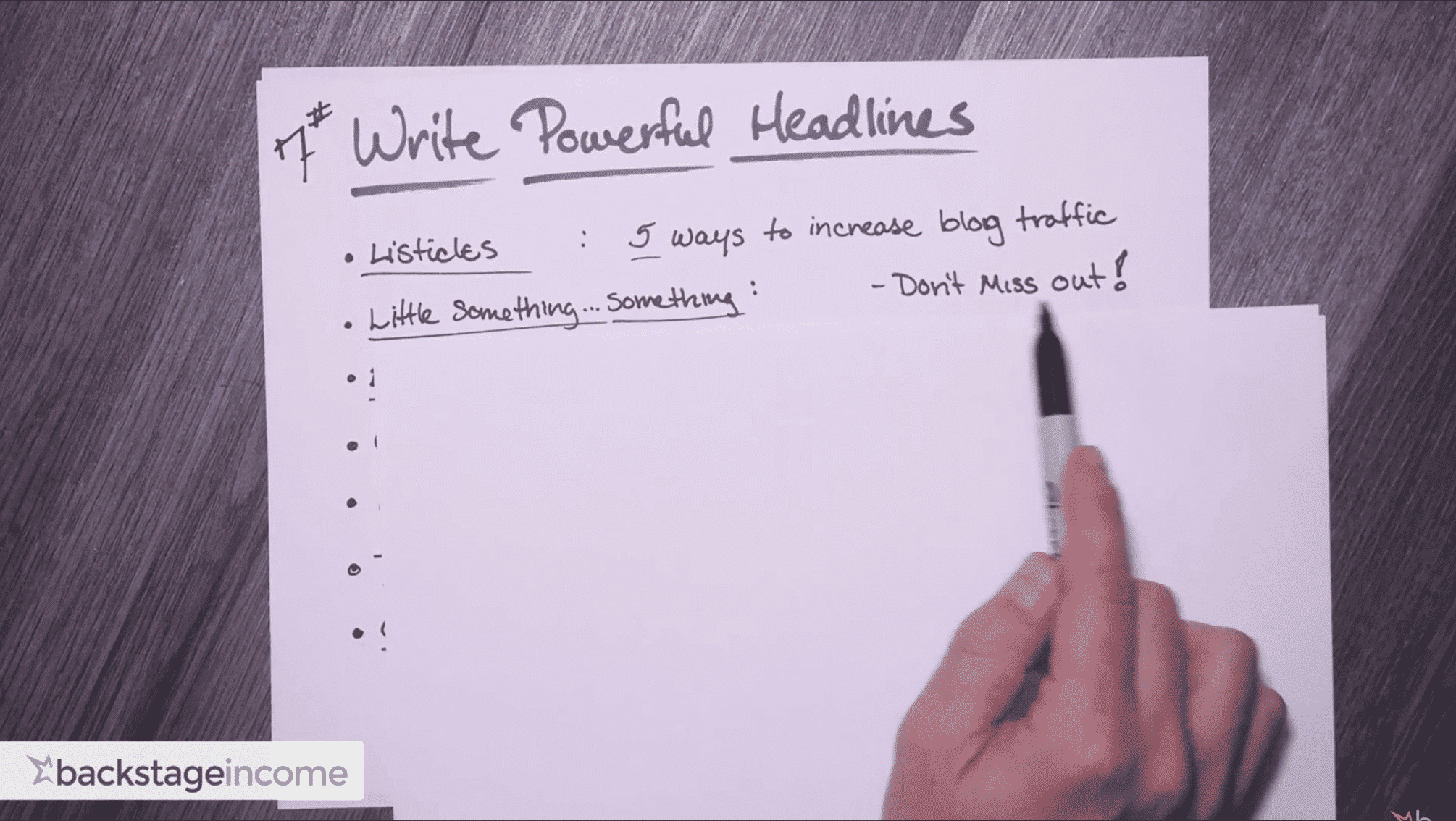 I like to call this as giving them a little something extra or saying hey five ways to increase blog traffic, don't miss out!
It's like different ways to increase blog tracking, don't miss out. Don't skip this one. It gives them a little something at the end of that of that headline.
Use Emotional Words
Instead of five ways to increase blog traffic, you could say five ways to explode or blow up your traffic or blow up your website. So explode your traffic or blow up your website with traffic.
It's another way to tweak this to be able to make it even more powerful.
Opposites
Opposites also work really well.
So, five ways to NOT or five strategies to REDUCE —
So if I was looking to talk about traffic — five strategies to REDUCE your web traffic or five ways to NOT get more visitors to your website.
It sounds a little weird to do this but some people are like — well, what are those five ways I want to make sure I'm not doing them.
Opposites can attract. It's giving the gravitational pull in the other direction.
Emotional Trigger Words
Why your traffic generating methods SUCK?
Things like that — emotional trigger words — can get people sucked in. Cuss words sometimes can do this as well but again you don't want to play in that game too much unless that's part of your channel or part of your style because that can also ban you from things or it can push people away as well.
Be careful with that.
Talk about THEM
This is another powerful headline — Five ways that you can increase your sales in 24 hours.
Five strategies you can do in the next 24 hours to increase your sales. So the focus is on them.
Question
How much blog visitors would you like in three months?
That could be an interesting headline because it questions them of what to what they want out of it or what's next. It gives an open-ended question.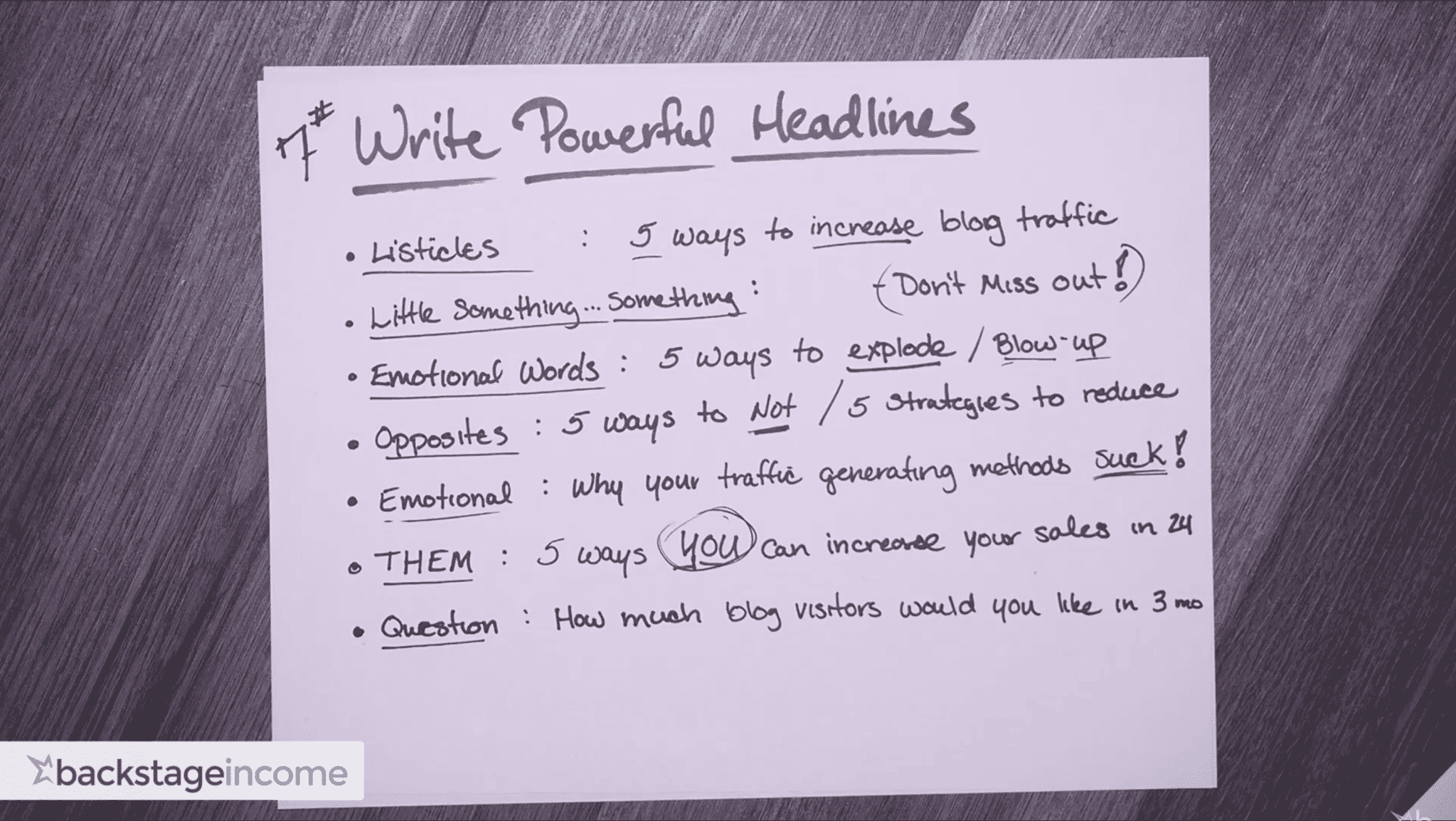 These are a few ways to get you started to ramping up your headlines.
It gives you a way to play with some of these things because once you get some ideas and start brainstorming, these things, the creative juices can start flowing and you could create even more powerful headlines.
These are just scratching the surface here and obviously there's many more methods to creating powerful headlines. I just want to get you started to seeing a little bit of a different picture. Maybe to freshen up some of your old blog posts, if you want to rewrite a few or even going out and as you write new ones in a little bit of a different way.